The Germans was teaching Belarusians how to use spy technologies against demonstrators
39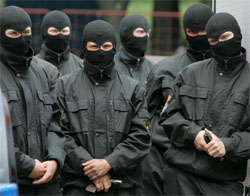 Belarusian security services used the program «Analyst's Notebook» against opposition.
"The Germans has taught Minsk Police how to apply modern spy technologies against demonstrators", - commented on the answer of German MIA to his parliamentary request German leftist politician Andrej Hunko.
In a special statement of the German parliament, which "Radio Svaboda" has received, si stated that modern technologies of improving the criminal investigation process, which were passed by the Germans at a seminar in Minsk in June 2009, include, in particular, analytical computer program «Analyst's Notebook», which was later used by the Belarusian police not to fight terrorists, drug traffickers and criminal gangs, but to suppress protests of the civilian population.
According to Andrej Hunko, despite the fact that representatives of the Federal Criminal Police Office provided training on the automatization of criminal prosecution for security forces of repressive Belarusian regime, there was no public debate in Germany in this regard. Legitimacy of the use of such "intellectual assortment" in ordinary police work was not discussed at all.
According to the German politician, programs, such as «Analyst's Notebook», are able to detect the connection between people, things and places - this is still the prerogative of the foreign intelligence service. Therefore, the Federal Office for combating criminal offenses, as well as police agency "Europol" should explain why such systems are used in the analysis of social networks and studies of connections of people whose guilt has not been proven.
"When computer programs analyze someone's personal information, one should be aware of the principles of their actions, so – the source code. And it's not just about state Trojans and tools for analysis of the various sources during a criminal search.
Researches in part of recognition the surveillance samples within the EU projects INDECT and ADABTS are also questionable. With their help, the police and the management of shopping centers want to legitimately predict "suspicious behavior", points out Andrej Hunko.
According to him, calls of German Foreign Minister Guido Westerwelle to control the export of  technologies to authoritarian regimes have gone unheeded.
Meanwhile, the federal government provided training not only for the Belarusian security services. The next week, it invites representatives of the Ministry of Interior Affairs of the Persian Gulf to the first German conference «GCC Security»  at Dusseldorf. This is done to contribute to the export of German surveillance technologies to this region.
German deputy from the left-wing demands that the Crime combat department stopped providing training to foreign security service in computer intelligence and started to advocate in international bodies to reduce of computer espionage.