Die Zeit: Belarusian law-enforcement agencies participate in special operation in Germany
41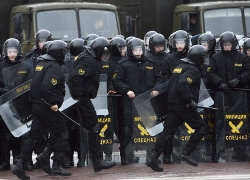 Belarusian police were involved in guarding a train carrying Castor nuclear waste containers.
Earlier reports say Belarusian policemen were not only watching the operation, Radio Svaboda informs with a link to Die Zeit. This  information was confirmed by the Ministry of Internal Affairs of Lower Saxony.
The Lower Saxony government was informed about involvement of Belarusian police in the operation on the initiative of the police of Saxony. In November 2010, three Belarusian policemen were trained in that federal state. Saxon colleagues offered them to guard the train carrying Castor nuclear waste containers from France to the town of Gorleben in Lower Saxony.
This event provokes annual several thousand protests "Stop Castor" in France and Germany creating serious problems for German police. About 20,000 policemen usually protect such trains. The same happened in 2010. Police had to use water canons, gas and batons, unchain ecological activists who chained themselves to rails and clear barricades. Over 1,300 protesters were detained.
As charter97.org reported, the German federal police and the Federal Criminal Police Office trained Belarusian colleagues, including border guards, since 2008. The German Interior Ministry acted by agreement with the MFA. The Germany party notes cooperation began after Minsk "demonstrated a signal for readiness for legal reforms" and had the aim of "promoting democracy and the rule of law". German police chief Matthias Seeger was dismissed in July 2012. Contacts with the Belarusian governments are called among the reasons for the dismissal.
The interior ministries of the two countries continued cooperation at least until May 2012. About 100 officers of Belarusian security agencies are reported to have been trained in Germany. German police also trained 400 Belarusian border guards, police chiefs and forensic experts in Belarus.