Monument to Menachem Begin unveiled in Brest
9
The monument to Menachem Begin, Nobel Peace Prize winner, seventh Prime Minister of Israel, was unveiled in his hometown of Brest on 31 October.
The monument has been built in the Brest historic downtown near the house that used to be the school which Menachem Begin attended. It has the inscription in Hebrew, Belarusian and English: "Menachem Begin. Novel Prize Winner. Born in Brest. Leader of Israel".
"We pay tribute to the people who made a contribution to history and who have glorified our city. Menachem Begin is certainly among such people. Here he grew up. Here his political views formed. This monument was erected on the initiative of the Jewish community, with the support of the local authorities and with the consent of the head of state. We could say that in such a way Menachem Begin, or rather the memory of him returns to the city where he was born," said Chairman of the Brest City Council Alexander Palyshenkov.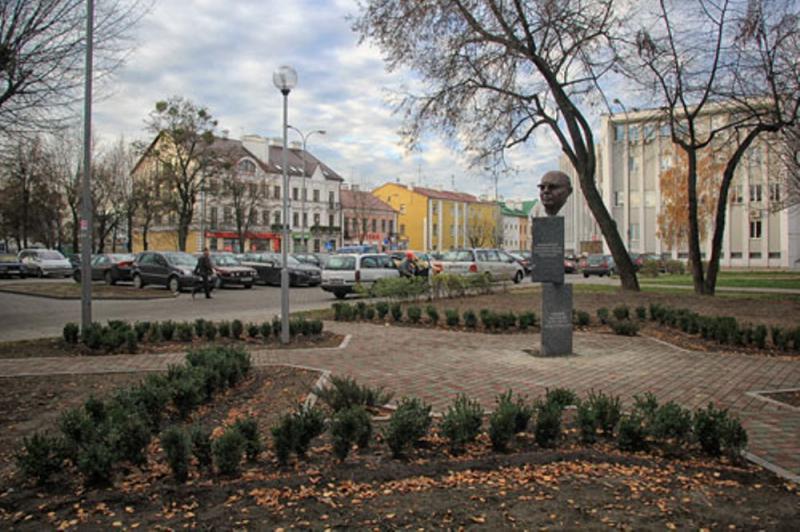 The erection of the monument to Menachem Begin in his homeland is a unique event, Ambassador Extraordinary and Plenipotentiary of Israel to Belarus Yosef Shagal said. This is the first monument to an Israeli politician in a post-Soviet country. "The man's name has gone down in the history of the State of Israel in golden letters. Menachem Begin managed to accomplish what seemed impossible. In 1979, thanks to his efforts, Israel and Egypt reached a peace agreement, known as Camp David Accords, for which he was awarded the Nobel Peace Prize," Yosef Shagal said.
The diplomat read out a welcome letter from Israeli Prime Minister Benjamin Netanyahu, in which the Prime Minister thanked the Belarusian people and leadership for the respect to the memory of Menachem Begin as one of the outstanding representatives of the Jewish people. Yosef Shagal also expressed confidence that this will contribute to further rapprochement and strengthening of ties between the two countries.
The monument was sponsored by the Jewish community. It was created by a group of architects headed by Leonid Levin, winner of the Lenin Prize, President of the Union of Belarusian Jewish Associations and Communities. The group also included sculptor Konstantin Selikhanov, and the author of the preliminary designs Alesya Gurshenkova.
Attending the ceremony was Herzl Makov, the Head of the Menachem Begin Heritage Center, and also representatives of the diplomatic corps based in Brest, local authorities, Jewish organizations, honorary citizens, general public and youth.
Menachem Begin was born in Brest-Litovsk on 16 August 1913. He served as Prime Minister of Israel from June 1977 to September 1983. In 1978 he was awarded the Nobel Peace Prize. Menachem Begin died in Tel Aviv on 9 March 1992.