Cyprus levy to affect Lukashenka's cronies
79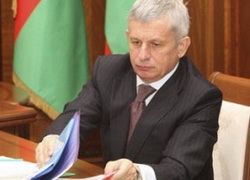 The bill, which the Cyprus parliament discusses today, will became a pain in the neck for Belarusian oligarchs.
The levy on deposits, which may be approved today, will affect Lukashenka's closest officials and businessmen.
Russian politologist Andrei Suzdaltsev said in an interview with charter97.org what consequences the law may have.
"Cyprus, as well as Austria, Cuba and some Arab countries, is among the states where Belarusian oligarchs and Lukashenka's 'family' keep their money.  If you put the facts together, you can suppose that the total amount of their deposits in the island's banks reaches 800 million dollars. This is mostly the money from Russian oil and energy frauds and kickbacks in potash business," the expert thinks.
The politologist is confident that Belarusian oligarchs will suffer significant losses from the tax. However, he thinks the controversial bill will not provoke as wide public response as it was in Russia.
"Being a socialist state, Belarus has ideological clichés. One of them is absence of social stratification in the country. The authorities say there's no corruption in the country. In real case, it is not true. There are very rich people and corruption in Belarus. But the oligarchs, who are close to the ruler, hide their incomes and don't speak about them. But they will definitely have a pain in the neck," Andrei Suzdaltsev said.
European media already drew attention to Cyprus's non-transparent banking system. The country's government was criticised for allowing officials and businessman from the countries under the EU sanctions – Belarus, Iran and Syria – to keep money in Cypriot banks.
According to Brussels-based EUobserver, Lukashenka's close relatives use Cyprus-registered companies to buy real estate in Minsk and oligarch Vladimir Peftiev runs business in Cyprus.
"As any integration institution, the European Union is interested in all its part to work according to the same rules. No exceptions, also for Cyprus, are possible," Suzdaltsev said.
Cyprus and the EU agreed on Friday that the country would get a 10mn-euro bailout from the EU  and IMF on some conditions, including a levy on bank deposits.
The Cypriot parliament was to discuss the one-off tax on savings on Monday, but the session was postponed until Tuesday evening.