Solidarity with Belarus concert: For our freedom and yours
16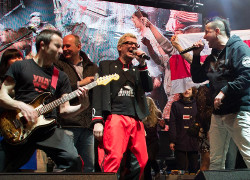 A concert "Solidarity with Belarus" attracted some thousands of people in Warsaw.
The gig in the centre of the Polish capital – Krakowskie Przedmiescie – gathered thousands of Belarusians, Poles and tourists from all over the world. Polish politicians also visited the gig.
The event was opened by Belarusian rap singer Zmitser Vinsent Papko, who played a main role in the film Viva Belarus, and Polish journalist Justyna Dzbik. "The concert has been held since 2006, but we have to organise them because nothing has changed in Belarus. Our aim remains to remind about human rights violations in Belarus. We meet here to show our solidarity with our neighbours and show that Poland remembers about the Belarusians struggling for freedom. We have solidarity with Belarus!" the concert hostess said.
Hrodna-based Dzieciuki band were the first to play. Photos of protest rallies in Minsk against the rigged presidential elections were demonstrated on the concert screen during their performance.
Pawel Zalewski, a member of the European Parliament, addressed the audience. He noted how important it was that Belarusians could carry out events in Poland to support the democratisation of Belarus without fear of persecution. The politician assured that other events to support the Belarusian political prisoners would be organised. "Belarusians are the same with us, Poles. They are struggling for freedom and need our solidarity. We show our solidarity with Belarusians struggling for their rights, freedom of speech and assembly. We are inspired by the people, who oppose the regime and need our support. We have gathered here to show it. We must show Belarusians that we are together with them," the MEP said.
Legendary Henryka Krzywonos came to the gig from Gdansk. She is considered to be one of the two Polish women who initiated the famous strike in Gdansk, which led to founding the trade union "Solidarity". She said: "Life for the sake of freedom is worth struggling. Don't be afraid. Fight!"
Krambambula band and its leader Liavon Volski appeared on the stage. The band is banned in Belarus, but plays concerts in Warsaw, Vilnius and other European cities.
The musicians sang a famous Belarusian guerrilla song. Thousands of people were signing together "We Belarusians are sons of guerrillas".
Wives of Belarusian political prisoners – Ales Bialiatski's wife Natallia Pinchuk, Mikalai Statkevich's wife Maryna Adamovich and Zmitser Dashkevich's wife Anastasia – were invited on the stage.
Popular Polish group Strachy na Lachy played their part in the concert. Videos of dispersing a protest rally on December 10, 2010, in Minsk and a portrait of Lukashenka were demonstrated on the screen as the musicians were singing the song "Black Europe".