Cypriot court denied defence to Belarusian oligarch due to sanctions
50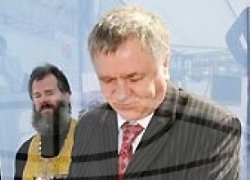 Anatoly Ternavsky cannot apply to courts of the EU to solve corporate disputes.
The Belarusian oligarch cannot resolve the conflict over selling Krasnodar-based oil transporting company Naftatrans in the Supreme Court of Cyprus due to the EU sanctions.
On March 22, the Supreme Court of Cyprus lifted a temporary ban of a lower court on carrying out activities by directors of Rayhill Limited company, in which oligarch Anatoly Ternavsky, a close friend of Lukashenka, beneficially owns a 40% stake through his company Prime, which was registered in the British Virgin Islands.
On November 23, 2012 Limassol District Court ruled in favour of Prime in the company's claim against another shareholder of Rayhill Limited, Erin company, and banned Rayhill Limited directors to take any decisions relating the activity of the company, Regnum news agency reports.
Shortly before that, Erin, which is owned by Russian Anatoly Loktionov, held a general meeting of Rayhill Limited, where a decision was taken to appoint new company directors. Though Prime company was invited to the meeting under Cypriot laws, it ignored the event. Nevertheless, Erin received official permission of the Cypriot authorities to hold the meeting without Prime representatives.
Being not satisfied with the results of the meeting, Prime's Anatoly Ternavsky applied efforts so that the Cypriot registrar didn't register the changes in the board of Rayhill Limited. The registrar found Ternavsky's claims ungrounded. Prime company applied to Limassol District Court.  
As the Supreme Court of Cyprus figured out, Limassol District Court, which imposed a temporary ban on Rayhill Limited directors on carrying out activities, didn't take into account the fact that its ruling allows Anatoly Ternavsky to bypass the EU restrictive measures slapped on him for close relations with Lukashenka's regime. Applying to a court for commercial interests of his company, in particular seeking a temporary ban on activity of Rayhill Limited directors, Tenravsky in fact  carries out operations with his assets within the territory of the European Union that is strictly banned by the EU regulation on Belarus.
Rayhill Limited company owns 50% of the shares in another Cypriot company, Glidefern Limited, which, for its part, holds 100% of the shares in Naftatrans company dealing with oil transporting in Krasnodar Krai.
The decision of the Supreme Court of Cyprus deprived Anatoly Ternavsky of the opportunity to influence Naftatrans company. Moreover, the decision sets a precedent, in accordance to which the Belarusians subject to the EU sanctions cannot apply to courts of the EU member states without special permission of the authorities to bypass the restrictions on financial and commercial activity of their companies.