Ales Bialiatski nominated for Nobel Peace Prize
5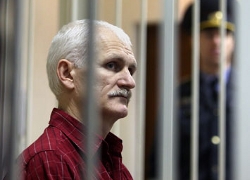 The prominent Belarusian human rights activist has been nominated for the Nobel Peace Prize for the third time.
Polish MPs, members of the ruling Civic Platform and the opposition Law and Justice party, collect signatures to submit his nomination.
"Like the Polish Solidarity movement represented by Lech Walesa received the Nobel Prize, Belarusian human rights activists represented by Bialiatski should be given the Nobel Peace Prize," he says.
As many as 160 Polish MPs signed for Bialiatski's nomination, Nasha Niva newspaper reports referring to Gazeta Wyborcza.
Bialiatski has been remaining a nominee for the last few years in prison.
Bialiatski used his bank accounts to help victims of repressions of the Lukashenka regime. Activists from Viasna human rights centre offered aid to all wrongfully convicted people regardless of their political views.
The Belarusian authorities received details of Bialiatski's bank accounts from the judicial bodies of Lithuania and Poland. He was imprisoned on accusations of tax frauds.