Riga summit's final declaration: Belarus refused to condemn Crimea's annexation
34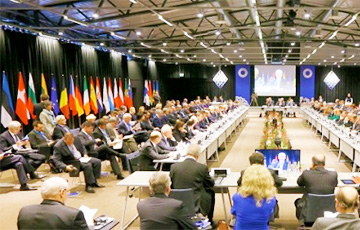 Ukraine failed to persuade Minsk and Yerevan to join in condemnation of Russia's aggression against Crimea.
It is stated in the text of the Eastern Partnership's summit's statement received by Evropejska Pravda.
As a consequence of that it is underlined in diplomatic phrasing, that Russian aggression is condemned by all except Belarus and Armenia. "The Summit participants call upon all parties to fully cooperate with the international investigations and criminal proceedings to hold to account those who are responsible for the downing of MH17. The EU reaffirms its positions taken in the Joint Statement made at the EU-Ukraine Summit on 27 April, including on the illegal annexation of Crimea and Sevastopol," the document reads. In other issues statements are made not on the behalf of the EU, but of all participants
It is also written in the same paragraph that "the Summit participants reaffirm their positions in relation to 'UN General Assembly Resolution 68/262 on the territorial integrity of Ukraine'." Belarus and Armenia voted against this document at the UN.
It is worth mentioning that at the same time Minsk and Yerevan agreed to the principle of the territorial integrity of Ukraine. "The Summit participants strongly support all efforts aimed at de-escalation and a political solution based on respect for Ukraine's independence, sovereignty and territorial integrity," the statement reads.
We remind that beside heads of states and governments of the EU countries, the meeting in Riga is attended by heads or representatives of Armenia, Azerbaijan, Georgia, Moldova, Ukraine and Belarus, as well as leaders of the EU institutions and a number of EU commissioners.
As it was informed earlier, during the Eastern Partnership summit in Riga a group of MEPs is expecting resolute moves toward liberalization of visa regime with Ukraine, Moldova and Georgia, and offering this states a European perspective.
It is said in the official call of 95 out of 751 deputies of the European Parliament to the leaders of EU states and governments, who are participating in the summit.
This address was initiated by a Lithuanian MEP Petras Auštrevičius, a member of the of the Alliance of Liberals and Democrats for Europe Party (ALDE).