Attack On Independent Trade Unions In Belarus (Video)
117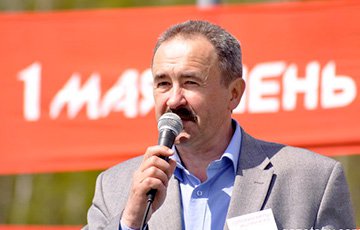 (Updated) Leader Of REP Trade Union Henadz Fiadynich Arrested, Criminal Case Started
A search has been held in the office of the REP Trade Union this morning by the Department of Financial Investigations of the State Control Committee. The trade union leaders are suspected of tax evasion, nn.by writes.
"At about 9 in the morning, some 10 people from the Department of Financial Investigations came to the office , — legal inspector of the REP Trade Union Yury Beliakou told Nasha Niva. — They showed the resolution of the Public Prosecutor on the investigation of the case on tax evasion. This is a case against our leaders Henadz Fiadynich and Aliaksei Komlik. Its essence is the same as it was in the Bialiatski case, — Beliakou says.
The search lasted for about 6 hours.
"They took our financial documents, several computers, hard drives. I offered to give the financial documents to the law-enforcers straightaway so that they would not ransack the office, but they said they would search for weapons and drugs, — Beliakou said. — They broke the door to Komlik's office as there was no key…»
The Trade Union's leader Henadz Fiadynich was detained at his house this morning.
Chairman of the Belarusian Congress of Democratic Trade Unions Aliaksandr Yarashuk is also detained.
REP Spokesperson Yury Herasimenka has been detained for interrogation.
Former editor of the praca.by website Natallia Pichuzhkina has also been detained.
It is reported that the law-enforcers are looking for Trade Union's Chief Accountant Ihar Komlik.
It also became known that on August 2, a search was carried out in the central office of the Belarusian Independent Trade Union in Salihorsk. This was reported by activist Siarhei Antusevich.
"It is known that Chairman of the Belarusian Independent Trade Union Mikalai Zimin signed an obligation of nondisclosure of the data of the criminal case. That's why it's difficult to say what is going on, " – Siarhei Antusevich said.
The officers of the Department of Financial Investigations also raided the houses of Ihar Komlik, Henadz Fiadynich and Natallia Pichuzhkina, praca-by.info reports.
The State Control Committee confirmed having started a criminal case against leader of the REP Independent Trade Union Henadz Fiadynich.
''The bodies of financial investigations of the State Control Committee have initiated a criminal case upon tax evasion with regard to leaders of one of the trade unions of the Republic of Belarus, which is not a member of the Federation of Trade Unions of Belarus. In the course of the check it was established that the Chairman and the Chief Accountant of the trade union organization opened bank accounts on behalf of the trade union in foreign banks, and big sums of money were continiously transferred to the mentioned accounts.'' - stated in the message of the State Control Committee.