"West-2017": Veisnaryja Coincides With Pazniak's Electoral Map At Elections - 1994
15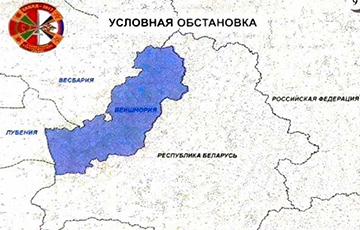 Against whom are the Russian-Belorussian troops holding maneuvers?
An interesting coincidence was noted on Facebook by Siarhei Chaly. Veisnaryja, an imaginary "state" located in the north-west of modern Belarus, became the opposing force of the Russian-Belorussian contingent in the West-2017 exercises. Its borders surprisingly coincide with Zianon Pazniak's electoral map at the 1994 elections.
"The map of hostile Veisnaryja, against which the valiant allied forces are going to fight at the West-2017 exercises, suspiciously coincides with ... Pazniak's 1994 electoral map!" - Siarhei Chaly wrote.