Aliyev: Azerbaijan To Purchase New Batch Of Military Equipment From Belarus
21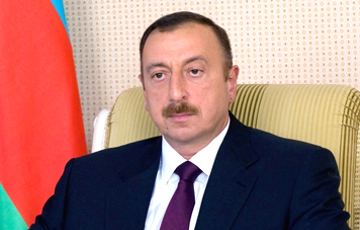 The Azerbaijani dictator also thanked Lukashenka for his support in the Karabakh issue.
Azerbaijan is preparing a contract to supply another consignment of Belarusian military equipment, Azerbaijani dictator Ilham Aliyev informed the jhournalists after the with Lukashenka in Minsk on November 19, Interfax reports.
According tot he state news agency BelTA, following the talks between the two leaders a memorandum of understanding was signed between the State Military Industrial Committee of Belarus and the Ministry of Defense of Azerbaijan to develop mutually advantageous bilateral cooperation in the field of air defense equipment and weapons supplies.
"In the shortest possible time it will be transformed into a contract to purchase another consignment of military equipment from Belarus," Ilham Aliyev said.
As reported, in June and September, the Azerbaijani Defense Ministry, despite all the protests of Armenia, received from Belarus a heavy long-range missile systems "Polonez". 301-millimeter "Polonez" was adopted by the Azerbaijani army in 2018. The maximum target range is 300 km.
Ilham Aliyev also thanked Lukashenka for his stance to the issue of resolving the conflict in Nagorno-Karabakh.
"On behalf of the Azerbaijani people and personally, I would like to thank Belarus for its stance on the settlement of the conflict in Nagorno-Karabakh," said Ilham Aliyev.
The dictators of Belarus and Azerbaijan reflected their position on Nagorno-Karabakh in the joint statement, signed following the negotiations.