Journalist Raman Pratasevich Kept Three Hours At Police Department
11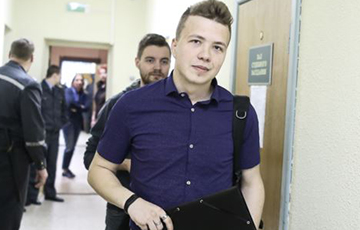 The journalist says that what was happening at the police department was very strange.
In the morning of October 5, the police arrived at the apartment of Raman Pratasevich, a Euroradio journalist in Minsk. He was detained, taken to the Pershamaiski district police department of Minsk and released three hours later, Radio Svaboda reports. The journalist says that what was happening at the police department was very strange.
"For all the time I was detained, they didn't show me a single piece of paper, didn't say anything at all, I didn't sign anything. No interrogation protocol, nothing. Therefore, everything that I know comes only from the oral information provided by the employees," – Pratasevich says. The only paper that was given to him confirms that he was taken to the Pershamaiski district police department.
He recalls that on Saturday, November 3, a man called him, introduced himself as an employee of the Pershamaiski district police department and asked him to come. Pratasevich answered that he was not able to, because he was in another city, and asked what the matter was. He was told that he had witnessed a traffic accident: having allegedly used the data from cell towers, they had detected that his phone was nearby. Pratasevich offered the man to call back on Sunday, when he was in Minsk, but they did not call back, and the next morning they took him from his house to the police department.
"When I asked what the matter was, they said nothing to me. They said something like, "you will tell us, – Pratasevich recalls. – The only thing they seized was my phone, they were asking about some photos of my friends, looking for something in the mobile phone for a long time, taking pictures of it..." According to Pratasevich, during the inspection of the phone, he was asked why he had been taking pictures of meetings, why there were a lot of pictures with police officers. They said nothing to answer the counter question, what was so strange about it, if he had officially worked as a journalist and had an official accreditation of the Ministry of Foreign Affairs.
According to police, they allegedly filed a case against "hooliganism" (part 1 of article 339 of the Criminal Code of the Republic of Belarus) in relation to Pratasevich. Allegedly, more than a month ago, in the 20s of September (they did not name the exact date), he rode a bus and some kind of conflict occurred, someone hit the bus driver – and the driver recognized Pratasevich as the attacker.
The journalist himself says that he didn't remember any incidents, not only with his participation (and he emphasized that he was a non-conflict person at all), but also with the participation of someone nearby.