Restricting Access To Charter-97 May Signal About Kremlin's Serious Intentions
6
Zbigniew Bujak
9.02.2018, 9:19

27,657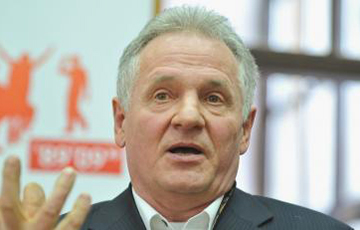 The hero of the Polish Solidarity has supported the Belarusian independent website.
The international situation can tell us a lot about the motives of the Belarusian regime. One of the founders and leaders of the underground Solidarity Zbigniew Bujak stated it, commenting on the blocking of the Сharter97.org site:
– Charter-97 is the main independent source of information for Belarusians. Lukashenka tries to thrust his interpretation on everything that happens in Belarus, Europe, Russia's politics, the situation in the world. Therefore, Сharter97.org is an undesirable site for the entire Lukashenka regime, which seeks total control and absolute power.
The most important issue is why Charter 97 has been blocked at this particular time. Is there something happening in Europe, Belarus, in Putin's policy that could become the reason for Lukashenka's decision to cut off the Belarusians from the source of independent information?
I've heard from many Ukrainian experts that the year 2018 will be a turning point in the events that take place in the Donbass. What could it be? Maybe it will be a military aggression involving regular troops, or further development of the already existing hybrid war. We don't know for sure. All the cards are in Vladimir Putin's hands now.
Obviously, if a military operation is being prepared against Ukraine, it is strategically important to control the Belarusian-Ukrainian border. In this case, Ukraine will have to consider the danger of opening a "second front" on the border with Belarus.
Restricting access to Сharter97.org may signal of Kremlin's serious intentions. I also want to note that, at the international level, there are a lot of changes in the Ukrainian issue. It is reported that the US should interpose in the matter, that the Minsk agreements are no longer in effect, and other platforms and tools will be sought to resolve the conflict in Ukraine. It could also be the reason for blocking Charter97.org in order to prevent the emergence of alternative points of view on the Minsk agreements and Minsk, as a platform for negotiations on Ukraine. Lukashenka is afraid of transferring the Minsk talks. The international situation can tell us a lot about the Belarusian regime's motives.
I would say in support of the Charter97.org editorial office and the readers that I do not know another Belarusian portal, which would work so efficiently and had such a large audience, as Charter-97. Hold on, I wish you true grit. For me, as well as for hundreds of thousands of Belarusians, Сharter97.org is an operative and high-quality source of information about the situation in Belarus.