Reporters Without Borders: Censorship Moved To New Level In Belarus
1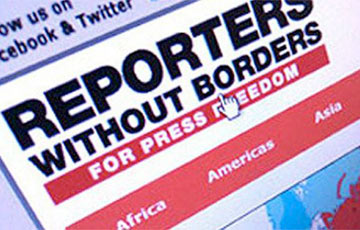 The international organization has noted a decline in the level of press freedom in Belarus in 2017.
According to the analysis of the world press freedom index, the situation with freedom of press has worsened our country, which lost two positions in 2018 in comparison with the indicator of 2017 (155th rating position against 153rd). Such countries as Brunei and Rwanda are the neighbors. Given that the rating consists of 180 countries, and Belarus "brings up the rear"– the situation with freedom of the press is clear.
"In 2017, more than 100 journalists were arrested, as a general rule, when covering protests held by the opposition. Some of them were beaten, others were imprisoned. The persecution of freelance journalists working for independent media outlets abroad, who do not have the opportunity to obtain accreditation in Belarus, has reached an unprecedented level," – the Reporters Without Borders report says.
There has been blocking of the web-based media. According to the experts, it indicates that the censorship has moved to a new level in Belarus.
Russia and Turkey's freedom of press index has seriously declined, and in general, the post-Soviet space is among the leaders of the press unfreedom in the world. However, the organization notes that the situation with the media worsened even in democratic countries after the change of power: Donald Trump, in particular, was caught unreasonably withholding journalists.
We remind that this year it is planned to adopt a number of amendments to the Law on Mass Media in Belarus. The authorities insist that the amendments are designed to regulate the disputed Internet sites and the availability of potentially dangerous information, human rights activists are sure that the state is ready pull the plug on the independent media.
On January 24, Lukashenka's regime blocked the independent information resource Charter97.org. The blocking was confirmed by the First Deputy Minister of Information Ihar Lutski. The Ministry of Information is headed by Aliaksandr Karliukevich.