Greek Catholic Priest: We Have Potential To Expand Our Faith
3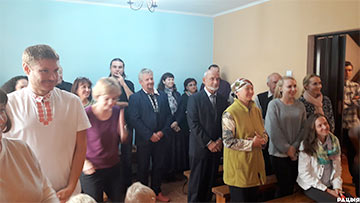 The Greek Catholics arranged a holiday in Lida to honour Josaphat Kuntsevych.
The Lida Greek Catholic Parish of St. Josaphat held festive events on the occasion of the parish holiday, racyja.com reports.
This community of the Belarusian faith, with regard to the language of services and culture, invited fellow Greek Catholic parishioners from Hrodna, Minsk, and Polatsk. Head of the Greek Catholic Church of Belarus, Apostle Visitor for Belarusians – Greek Catholics, Archimandrite Siarhei Hayek attended the holiday.
The parish turned 24 years. Priest Ihar Lashuk, who attended to the faithful for a certain period of time, recalls the first steps of this Lida community.
– Lida is the very start of my priestship, the fist months of serving as a priest, this land, this parish, my first year as a priest – this is all particularly dear and joyful for me, as I felt the need for priestship in the full sense of this word here. In both spiritual and physical meanings. In the spiritual meaning, it's disseminating the word of God, and the physical meaning showed how many people needed this word of God.
Father Andrei Ablameyka headed a Greek Catholic community in Lida for 8 years, he also remembers the first Belarusian liturgy, which was served by now deceased father Yan Matusevich. According to Andrei Ablameyka, the very existence of such small but strong community, united with mutual help, gives sense to Christianity:
– We can help each other to survive. However, trust me, our church has experienced different times in history: there were better times, and worse times. We are living in not the worst times now. We have the potential to bring more and more fruit, to pass our faith to other generations so it roots in the lives of our children. This is very important.
After the acathistos to St. Josaphat and the Divine Liturgy, the parishioners participated in the bakery contest and in planting of a fir tree in the parish yard.