Lukashenka Is in the Rocking Chair
49
Iryna Khalip
11.01.2019, 8:48

90,407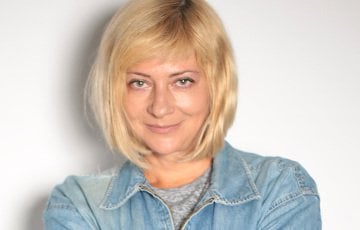 Whatever the dictator says in any language he knows, it doesn't mean anything.
Once upon a time, it was the year 1995. Those times are called vegetarian. Not that a human life had value, but it wasn't the bedraggled copper penny which it turned into a few years later. No one was beaten on kidneys for Pahonia badge, activists were not grabbed on the streets for "foul language", and Zakharanka and Hanchar moved freely around the city. Krasouski was a successful publisher, Karpenka worked at the Presidium of the Supreme Soviet, and Dima Zavadski shot stories for the Belarusian television. It's hard to believe that it used to be like that.
In that ninety-five I used to for a wonderful newspaper Imya. On the last page we used to have a collage - a topical funny picture. Those days independent newspapers were not only published but were also sold in kiosks. Moreover, there was the work of a distributor - people took newspapers for sale. Even in the subway crossings they weren't chased by riot policemen. So, distributors used to hold Imya newspaper so that customers could immediately see the collage on the last page. It was fun. Now you can't believe it was true.
Readers used to often drop into the editor's office. They suggested topics, expressed opinions, and just got acquainted. And there was one among them, we just called him Grandpa. He visited the editorial office almost every week, and every time he had an idea for a collage. It looked as follows: Grandpa came in and declared in an evocative voice "I have a great idea! Everybody listen how your next collage should look like! You should picture Lukashenka sitting in a rocking chair. This will mean that the chair is flimsy and wobbly!"
Why have I recalled this all of a sudden? Well, it's not all of a sudden. It turned out that Grandpa had tens and hundreds of grandchildren, who became journalists, political scientists and analysts. They follow in his footsteps. For three days now they have been discussing an extremely acute issue for the country in every possible way: it turns out that Lukashenka spoke Belarusian for almost two minutes at the time of awarding his prizes. For almost two minutes! And no matter what news site I visit these days, it is being discussed all around. What could this mean? Is Lukashenka's two-minute speech an answer to Putin? Is it related to Russia's tax maneuver? What will it lead to? Will pensions be abolished or, on the contrary, the parasite decree in connection with words "we strive to preserve inner compliance"? Does this mean a complete change of course and government resignation? Will it cause the martial law? Was there anything of this kind in the history of Belarus? They are remembering separate words and phrases said in Belarusian in different years and trying to build up a theory out of them. The idea fails, but descendants of Grandpa with the persistence of Cinderella's sisters at the ball make notes in their books: "gave a glance - twice; said, 'Come in, come in' - once". Grandpa would be proud of them.
Grandpa's genes, however, are in each of us. I also sometimes feel like his heir, but I fight it in every possible way. I remind myself and others of a simple thing: no matter what Lukashenka says in any of few languages available to him, it does not mean anything. And we are those who, unlike him who can only read the text written by assistants (they know that reading for a minute and a half in Belarusian is his maximum), know the Belarusian language and understand perfectly well that all the content of his Russian or Belarusian speech is determined by a single capacious word "doubletalk". That's it. And its discussion is the first step for the Grandpa to come to you at night with ideas of satirical collages. Be merciful, spare his dream.
Iryna Khalip, especially for Charter97.org