Daniel Fried: If Lukashenka Crosses Line, US Will React
56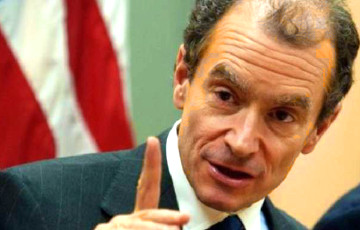 For Washington, Belarus's independence comes first.
Former US State Department Sanctions Policy Coordinator, Atlantic Council think tank expert and former US ambassador to Poland Daniel Fried praised the return of the US ambassador to Belarus, and told Charter97.org about the red lines for the Lukashenka regime.
- Mr. Fried, the United States and Belarus will exchange ambassadors for the first time in 11 years. Why did the Americans decide to take such step, given that the Lukashenka regime has not changed?
- You're right. This is exactly the problem the Americans are dealing with. It is possible to break off relations with the undemocratic regime, but with the risk that Belarus's independence will not last. This is a difficult choice. It may seem that we are turning a blind eye to human rights, but this is not so. For many years, Americans have been considering different options and possibilities. Personally, I support the current policy of cooperation with Minsk. Not because I don't care about human rights and democracy, but because it is during this period that maintaining the independence of Belarus remains the most important. As long as an independent Belarusian state exists, there will be hope for the future. And if Russia captures Belarus, then there will be no hope. This is a dramatic situation, and my unrefined answer to your question.
- Do you think that Lukashenka is the guarantor of the independence of Belarus? It was he who made our country dependent on Russia.
- I'm not sure, but it seems to me that Lukashenka wants to be the boss in his country, and not Putin's deputy. Perhaps we are mistaken. At the moment when we will establish contacts with Minsk, we will also maintain contacts with the Belarusian civil society and with dissidents. Without pressure from the government. In English, we say so: two-track policy - that is, engaging at the official level and supporting civil society. We will not abandon the second side of our policy. This is our commitment. Therefore, it is good that the Americans have an embassy in Minsk to maintain contacts. The Russians say that we are going to make a color revolution there ... This is nonsense. It is only about contacts with an independent society. This is our job.
- Next year, presidential election is to be held in Belarus. Does this mean that the opinion of the Americans regarding Lukashenka may change when they see with their own eyes how the so-called elections are held?
- We have a certain line. If Lukashenka crosses this line, then it will be difficult for us to maintain relations with such a regime. Our tolerance and patience are limited. I understand very well that the opposition is skeptical about the contacts with the regime. Ok, America is a free country and we accept any criticism and are open to it. We will respond to events as they arrive.
I remember very well how during the martial law in Poland we tried to cooperate with both the Jaruzelski government and the opposition of Solidarity. We were criticized both in the circles of Solidarity, and in the circles of the Communists. It turned out that our policy was correct, although at that moment we were not confident about it. We are looking for balance.