REP Trade Union Successfully Achieves Abolition Of Expel Of Russian From Belarus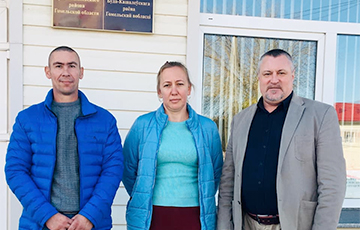 The case is over.
On October 16, judge of the Buda-Koshaleva district court Kanstantsin Skoryn satisfied the complaint of 38-year-old Russian citizen Vladimir Trauter, whom the police expelled from the country for 5 years "in the interests of public order", writes Homel Viasna.
The interests of a foreign citizen permanently residing in our country were represented in court by legal inspector of the independent trade union REP Leanid Sudalenka.
The interests of the local police department were represented in court by employee of department of citizenship and migration Viktoryja Vasilenka. At the hearing, Vladimir Trauter reiterated that he had nowhere to go to Russia - his whole life is in Belarus, a family, a sister, s sick mother, work, home and loans. The police officer insisted that only the expulsion can "re-educate" the Russian.
Important to note, the department of citizenship and migration of the Buda-Koshaleva District Department of Internal Affairs decided to expel him due to an administrative offense. In February 2019, Trauter was caught by traffic police officers when drunk driving. Another offense that he was charged with - talking on a cell phone while driving.
The leadership of the Communal Agricultural Unitary Enterprise Hubichy, where Trauter worked as a livestock breeder, stood up for him.The petition demanding to leave the Russian in Belarus was signed by 67 villagers. Trauter's relatives, fellow villagers, friends and colleagues came to support him in court. All witnesses interviewed in court described the deportee as a "decent person," "a good son, brother, husband, and father," as an "executive worker."
The district court did not provide a chance to the deportee. The Homel regional court, by the order of appealing, upheld the legality of the decision of the court of first instance, however, Prosecutor of the Homel region Viktar Marozau personally intervened, and brought a protest to the court resolutions.
On September 23, the Presidium of the Homel Regional Court, consisting of 8 judges, abolished the court decisions that had been taken earlier in the case, and sent the case to a different judge for a new trial to the same court.
And although the court's decision on the new consideration of the case has not entered into legal force, representative of the independent REP trade union Leanid Sudalenka has already stated that the case is over, as the regional prosecutor and the presidium of the regional court agreed with his arguments that when making the decision in the case, the interests of the family and the minor child of the expelled were not taken into account.