South River Honored Slutsk Armed Uprising And Held Rally Against "Integration"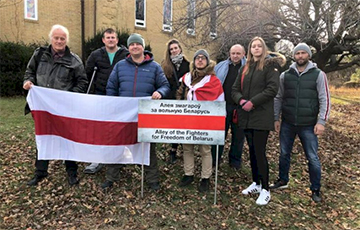 The Belarusians of the USA solemnly opened the Alley of Fighters.
On December 8, South River, which is one of the centers of Belarusian emigration to the United States, honored the memory of the rebels of the Slutsk armed uprising of 1920, Novy Chas writes.
The opening of the Alley of Fighters for Free Belarus has been held there.
Belarusians also held a protest rally against the signing of integration agreements between Belarus and Russia.
It was noted at the rally that, unfortunately, now the civil society in Belarus is deprived of the opportunity to influence the process of preparing and signing of the classified documents on "expanding integration" between Belarus and Russia:
"We, the Belarusians of America, consider it our duty to inform the international community that the illegitimate power in Belarus has concluded agreements with Russia, which directly threaten Belarus with loss of sovereignty. Glory to the Fatherland! Long live Belarus!
Since the end of the 19th century, the Slavic population of the Belarusian lands started to emigrate mainly to South River. The greatest increase in the Belarusian population was in the 1950s, after the Second World War.