Kachanava's Replacement Means Total Failure Of 'Parliamentary Election'
39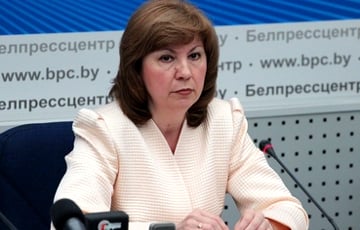 It's simply impossible to conceal Lukashenka's unpopularity among the people.
Lukashenka has replaced Head of his administration, Natallia Kachanava, with Major General, First Deputy Chairman of the KGB of Belarus Ihar Siarheyenka.
What does this personnel reshuffle mean? Coordinator of the European Belarus civil campaign Dzmitry Bandarenka has commented on the situation specially for the Charter97.org news website.
- What is the reason that the dictator dared to make such a personnel appointment right now?
- I want to stress that Lukashenka, in addition to Kachanava, replaced the First Deputy Head of his administration, and this means one thing: the previous group of leaders simply failed.
It is significant that Lukashenka showed off, speaking to the newly appointed "chamber guys", talking about great "successes", and at the same time dismissed the leaders of his administration.
It only means that in fact they failed the so-called "parliamentary campaign" and it is simply impossible to conceal the unpopularity of Lukashenka among the people.
And here the unforgettable quote from Ilf and Petrov is appropriate: "Shura, cut the weights, they are golden!". Lukashenka is trying to delay his departure, but it is absolutely clear to everyone that it is time for him to leave, because otherwise Belarusians will simply kick him out by force.
- What can we expect from the new administration of Lukashenka, given the ambiguous background of Ihar Siarheyenka?
- This is not the first security officer even in this position. Today's so-called "liberal" Uladzimir Makei also comes from security forces.
Lukashenka somehow feels safe only when surrounded by the people in uniform, personally loyal to him. And he relies on them exactly and precisely because of these appointments, Belarus today is practically the most backward country in Europe. These people are not competent, they can only order, but at the same time they are very poorly trained, and cannot control modern methods that are necessary in the 21st century.
Therefore, we have such failures in sports, where most of the heads of sports federations are also people "in the footcloths", failures in the economy, failures in the technological sphere.
Yes, you can put these goons somewhere, but there will be no result. Activist of the European Belarus Palina Sharenda-Panasyuk spoke beautifully on this subject: "It's time to remove this Mesozoic pangolin" - and all these dinosaurs that surround him.
- History teaches that trusting security officials often plays a cruel joke with rulers. And in Belarus, recently, there was a high-profile case of Utsiuryn related to a conspiracy against Lukashenka and his family. Are there any risks for the dictator associated with relying on security forces in the apparatus?
- Probably, it is possible to make a forecast today that it is these people in uniform who will eventually eliminate Lukashenka. For a variety of reasons: both because of its ideological proximity to Moscow, and due to the fact that there really are no other people surrounding Lukashenka, apart from the overripe fruits, like, for example, Mikhail Myasnikovich, whom he inherited from the old authorities.
Lukashenka surrounds himself with such people, because for him this is a sort of psychotherapy, but in the end these people will kick him away - when it becomes clear that for them this is the only way out.
But the most important thing is that all these permutations show the terrible archaic nature of Lukashenka's system, and Belarusians should understand that it's impossible to be held hostage by the mentally inadequate leader and his incompetent staff.
To live better, to live in a European way, we must also be Europeans in politics, and understand the need to defend our rights, including in the street.