Powerful Films About Ploshcha 2006, Which Are Worth Reviewing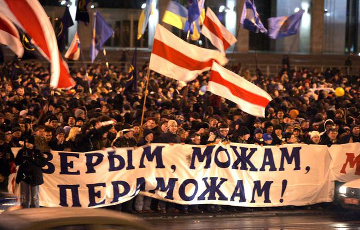 It was one of the most large-scale and lengthy protests in the history of Belarus.
March 19 is the 13th anniversary of the protests on Kastrychnitskaya Square in Minsk, which started to express people's disagreement with the rigged presidential election in 2006.
It was one of the most large-scale and lengthy protests in the history of Belarus. It took place from March 19 to March 24, 2006. Authorities brutally dispersed it, hundreds of people were arrested.
Radio Svaboda offers two documentaries that show those events.
Square
In the Yury Khashchevatski's film "Square", Paval Seviarynets, who is serving a sentence in the village of Maloye Sitna, discusses the state of the Belarusian province and its perspective. A parallel line of the plot is a conversation with the girl Dasha, who came at night to the tent camp and experienced, together with hundreds of other participants in the action, detention, trial and prison. Yury Khashchevatski touches several topics in the film: culture, education, the relationship between power and people.
The film was distributed on free DVDs throughout Belarus, received a number of international awards.
A Lesson of Belarusian
The film tells about the events of 2005-2006, during the presidential elections in Belarus. It was made by Polish director Miroslaw Dembinski. The film shows the Belarusian reality through the eyes of Franek Viacorka, a graduate of a humanitarian lyceum liquidated by the authorities.
The film was recognized as extremist in Belarus, received more than 20 international awards, including several Grand Prix and Prix Europa.