'Our Dream About Freedom Remains Endless'
14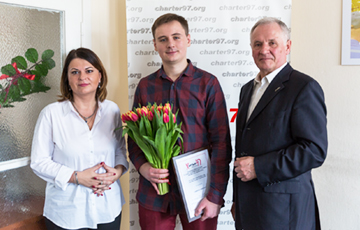 The website Charter97.org has rewarded blogger NEXTA for the courage in creativity and personal bravery.
The presentation of the 2018 National Award for the Protection of Human Rights named after Viktar Ivashkevich continued in the Warsaw office of the Charter97.org website today, on March 29.
On March 21 in Minsk, the website Charter'97 awarded Brest bloggers Aliaksandr Kabanau and Siarhei Piatrukhin, the mother of the deceased soldier Aliaksandr Korzhych Sviatlana Korzhych, and activist of the European Belarus civil campaign Leanid Kulakou.
Today, Charter97.org awarded young vlogger Stsiapan Sviatlou, also known as NEXTA. Stsiapan Sviatlou won the award under two nominations at a time: "For courage in creativity" and "For personal bravery".
Editor-in-Chief of the Charter97.org website Natallia Radzina opened the awarding ceremony. She started from telling why it was decided to hold the ceremoiny both in Minsk and in Warsaw.
"This year, the ceremony of presenting the National Award for the protection of Human Rights named after Viktar Ivashkevich for the year 2018 stretched in time and space. This happened because some our laureates – Aliaksandr Kabanau and Siarhei Piatrukhin – are banned from leaving Belarus. There are pending criminal cases against them.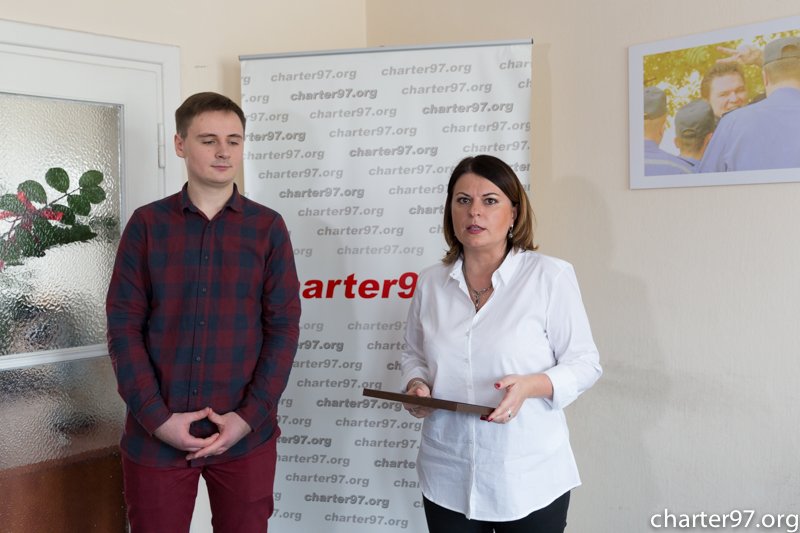 One more our laureate, Stsiapan Sviatlou, is under criminal persecution in Belarus. He has a reverse situation – he cannot return to his Homeland. We understand blogger NEXTA's situation perfectly well, as many Charter97.org journalists cannot return home either. That is why we wanted to present the National Award here, in Warsaw.
Stsiapan Sviatlou is a unique young man for Belarus. He has a one-million audience, he makes very brave videos, in which he calls things by their proper names, ridicules the kolkhoz-style dictatorship. In a situation when independent media are being destroyed in Belarus, Stsiapan Sviatlou is doing a very important work. I am particularly pleased that, after more than 20 years of work of the website Charter97.org, such young people as Stsiapan Sviatlou continue to appear. Besides, he is also 20 years old. That means, "our dream about freedom remains endless".
Natallia Radzina gave the floor to the legendary leader of the underground Polish Solidarity, candidate for MEP Zbigniew Bujak, so that he hand the award to blogger NEXTA.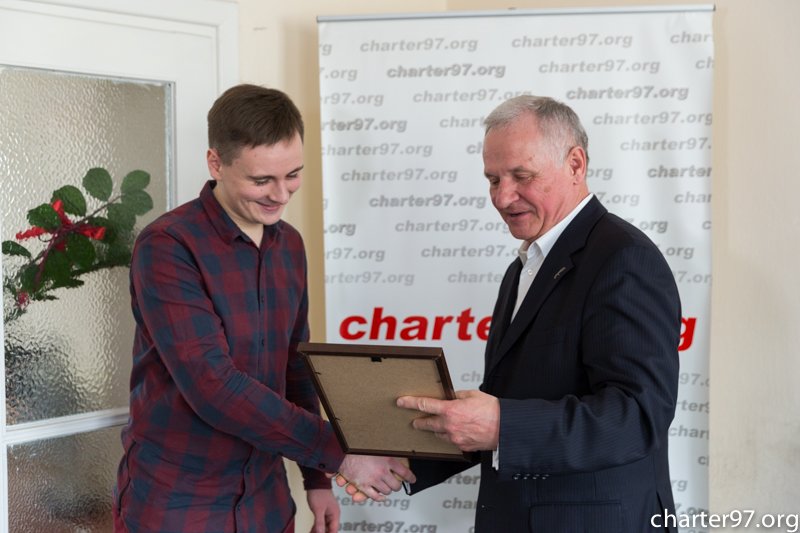 "Dear laureate, handing you this award, I want to tell you that for us, it means the joy of meeting you, and for you it means a great duty and obligation.
What can I, a veteran of the Polish Solidarity, a veteran of the struggle for human rights in Europe, say to such a young man? For all of us, the founding fathers of the movement for struggle are Andrei Sakharov and Elena Bonner. Even famous Jacek Kuron (a Polish politician, one of the leaders of the opposition during the existence of the Polish People's Republic - Charter97.org) stated "that we all originate from Sakharov and Bonner".
If they, during the existence of the USSR, had not begun their struggle, then we would nevert know that it can be successful.
I would like to say that our countries still have to adapt to European standards and values. You can talk a lot about these values, but do not know anything about them.
Conducting trainings and meetings with students, I always say that if you want to carry out some kind of reforms in a society, then you must convince people that they are important and needed. To be understood with your ideas, you need to have great support in the society.
When we started reforms in Poland, we only had newspapers, television, and audio tapes. Today you, young people, have much greater opportunities that exceed ours a hundredfold.
Therefore, I want to say to our laureate that he is extremely important for our countries. It is he who has influence and knowledge necessary to control us, politicians.
Today, many politicians have become showbiz stars. Still, precisely such people as our laureate continue to keep us in good shape.
It is very important to understand that the real guarantors of security and order are not the police and security forces, but sports, culture, education, civil society. They make 95% of order and security. Unfortunately, even we in Poland have not fully understood this.
Politicians will never cope with this task until such people as our laureate explain and transfer this idea to the society. This is an incredibly difficult, but important and interesting mission. I wish Stsiapan success on this path," Zbigniew Bujak said.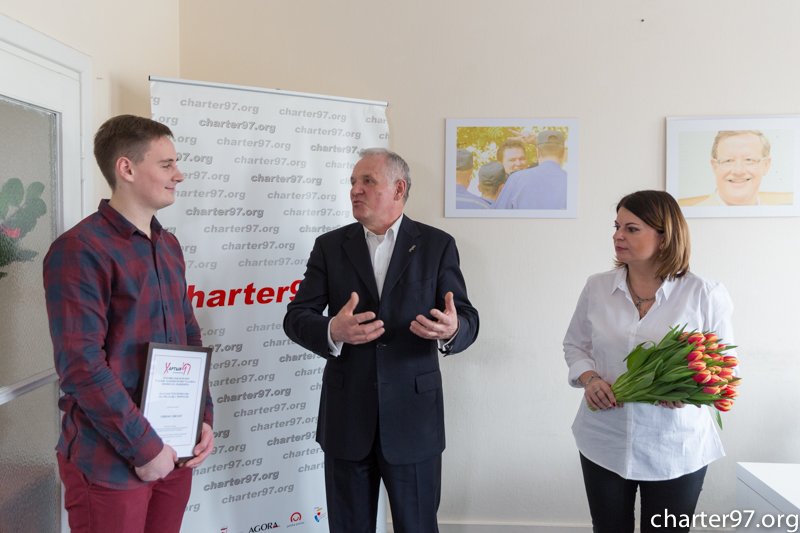 Stsiapan Sviatlou thanked the editorial board of Charter'97 for the recognition of his merits:
"It's a pleasure to receive this award. The Charter97.org Prize is an assessment of my work, and the motivation to continue to do my job better and more diligently. Many thanks for this award. I hope that, in the end, we will come to the Belarus we are all dreaming about, we will be in friendly relations with Poland and other countries. Thank you very much!"