Homel Woman Listed As "Parasite" Two Months Before Retirement
9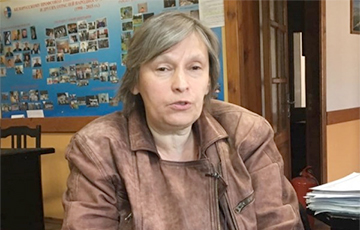 Writer Nika Rakitsina intends to fight the illegal decision.
Liudmila Bahdanava learned about the fact that she was "not engaged in the economy" from the notification she received from the so-called "parasite" commission of Tsentralny District of the regional center. The piquancy of the situation lies in the fact that the Homel woman will reach the retirement age in June, which means that she will be considered employed in the economy, Homel Viasna writes.
The 56-year-old woman decided to fight the illegal decree and asked for help the independent REP trade union:
– I started working at the age of 18, taking breaks only for writing a thesis research and raising children. She worked in a school, in the palace of creativity. In fact, if it were not for raising the retirement age, I would have been retired already.
Liudmila Bahdanava is known as writer Nika Rakitsina, she has been engaged in writing books recently. – Obviously, I am no match for Lev Tolstoy, but my books are rather readily published in Homel. Now a new book is being prepared for the release. The size of the print run is not large, but these are the realities of Belarusian writers, you won't earn much. I live practically on the salary of my spouse.
The writer received a notification with a demand to provide documents proving that she is a working person until April 30. Together with the independent trade union, the woman filed complaints with the city executive committee and the district administration.
The labor legal inspector of the trade union, Leanid Sudalenko, has commented on the essence of the claims:
– The REP Trade Union believes that in order to participate in the economy, it is enough to be a consumer of goods and services, including the excisable ones, and a payer of government fees and duties. In other words, regardless of her employment, Liudmila Bahdanava is engaged in the economy, as she constantly pays indirect taxes when buying goods and services, when using mobile communications.
Liudmila Bahdanava asks in the complaint to clarify why the state limits her right to choose her occupation, the right not to be subjected to forced labor and prohibited discrimination, interfering with her private life and the private life of her family.
Also Liudmila Bahdanava demands to raise with the Constitutional Court the issue that Decree No. 3 violates the Constitution; recognize her employment in the economy and oblige the Commission on promoting employment to exclude her from the database.