Stanislau Shushkevich: Monster Must Go, We Need Elections, As In Ukraine
29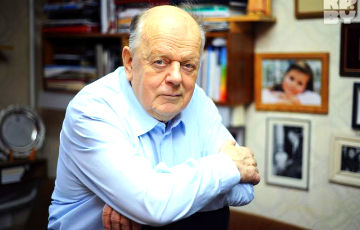 The victory of democracy in Ukraine is a great example for Belarus.
On Sunday, April 21, the second round of presidential elections was held in Ukraine. According to its results, Volodymyr Zelensky became the new president of Ukraine.
The website Charter97.org asked the first head of independent Belarus Stanislau Shushkevich to comment on the election results in Ukraine:
– In Ukraine, democracy has won. What will happen next – time will tell, because the situation is really complicated. Russian banditry has put its paw on Ukraine. It's hard to fight it, but I have the impression that Volodymyr Zelensky will successfully do it. If we talk about the economy, then everything will depend on what will be the new Ukrainian government.
I repeat, democracy has won in Ukraine and this is a good example for Belarus. The monster that rules here and manages the "election" process must resign. Such monsters have no place in our land. We need elections like in Ukraine.
– What, in your opinion, should be the policy of the new president of Ukraine towards Belarus?
– To begin with, there are many internal problems in Ukraine. Zelensky has already spoken about the Minsk process. I think, unfortunately, nothing will come of this, since the Russian side is not the subject of negotiations. So, nothing good going to happen there. However, there may be some heuristic option. It is necessary to hope for it, but, I repeat, I am rather skeptical about this tense Minsk process in which the aggressor country is not involved.
Volodymyr Zelensky is a patriot of Ukraine. I am sure he will pursue a decent and independent foreign policy. Yes, he is an amateur in politics, but he is a talented person and will cope with everything.
I repeat, the new president of Ukraine is a true patriot and will act to the benefit of his country. I am absolutely sure of this.