Pavel Selin: Being A Man Of Iron Beliefs, Aleh Biabenin Remained A Good Guy Journalist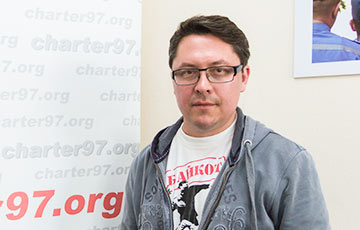 The renown Russian journalist is speaking about founder of the Charter97.org news website.
Founder of the Charter97.org Aleh Biabenin would have turned 45 on June 14.
Russian journalist Pavel Selin shared his memories about Aleh Biabenin:
- I'd like to begin with the moment I remember most. When I was expelled from Belarus in 2003, one of the most touching moments took place on a platform of the train station in Minsk during. A huge number of people gathered there - both my acquaintances and strangers - over a hundred people.
One of the most unforgettable moments was the way Aleh put a bright green T-shirt with the inscription "Territory free of Lukashism" on my shoulders. I still keep this t-shirt as one of the most favourite artefacts of my Belarusian life. We agreed that in five years, on 29 June 2008, when my deportation period expired, we would meet again at this station.
And one of those who came to meet me five years later, as agreed, was Aleh Bebenin. He kept his word. He met me with his little son.
I remember these two moments: on June 29, 2003, the inscription on my t-shirt "Territory free of Lukashism" and Aleh who met me five years later.
He was was like that: the iron man, who always keeps his promises and the man of strong beliefs on the one hand, and incredibly cheerful and open on the other. I still admire the way it coincided. He was a cheerful, open guy with so strong will.
He believed in his truth so hard which we know brought him to such a tragic end. I am still convinced that it was a murder. No one will ever convince me that he could commit suicide. It sounds so silly and is far-fetched. I believe he was killed for his beliefs, for not compromising and going all the way.
I do hope that sooner or later - I wish it could happen sooner - murderers and customers were found and held liable. The dictatorship is not eternal. One day it will end, and then those who killed Aleh will be punished. I do hope that it will be the people who gave the order. I think they belong to the top leadership of Belarus.
The Aleh story is probably the most tragic of my Belarusian stories. We were close friends and were on the same page that made it possible for us to finish each other's sentences. The terrible news about his death once threw me off my stride for a long time.
It became clear at once that those elections of 2010 would be a tragedy. If it all starts like this, it will not end well. In fact, it happened to my friends: Natallia Radzina, Andrei Sannikov, Iryna Khalip, Zmitser Bandarenka.
It was very important for me that Aleh, being engaged in opposition and political activity, remained a journalist. He always provided with unbiased information. And his tragic death is an act of revenge for his journalistic activity. Perhaps, journalistic activity is the main reason.
I guess I won't be able to list all the moments about Aleh - touching and creepy, emotional and terrible... I remember how I was afraid for him during those "grabber" times - when he was grabbed without mercy and arrested. I realised that he was as old as me, and I saw him grabbed and thrown into a paddy wagon. I was worried and at the same time admired his ability to take a step forward, to resist those heavily armed "cosmonauts" with batons. It was incredible courage. I don't know whether I could behave that way... And Aleh stayed ahead at all rallies and demonstrations. It is admirable.