Vasil Hushcha: Today's Belarusian Power Is Satanic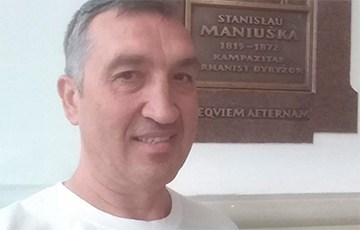 We must talk to people, discuss problems, find a way out of the impasse together.
Vasil Hushcha is a crane operator who works on a rotational basis near Minsk. He was born in the town of Liozna, Vitsebsk region. He is a participant of the European Belarus civil campaign and a candidate for deputies in 107 constituencies.
The activist told the BNC about the problems his colleagues are facing today:
- I work as a machine crane operator. The experience is more than 20 years. This is the third time I've been getting a job in the organization, where I work now. The work involves a rotational method, a week in a week. I have to work at least 12 hours a day, and at least 250 hours a month.
There are a lot of problems at work, mainly related to safety precautions. There are also financial problems - it is difficult all over the country. I can say a few words about my small homeland - Liozna district. The average salary is 200 rubles, people are just left high and dry. A lot of people just leave the region in search of a better life. If you take 10 acquaintances, three of them are already abroad. "Naturally, no one gets 500 dollars, maybe only local officials are paid like that.
The economic problems are closely connected with politics. People are confused, nobody knows what will happen to the country. Many people are afraid that Moscow will make an Anschluss decision and will want to take Belarus on the sly. At the same time, we are not told anything about what is happening in the corridors of power, between Putin and Lukashenka. Our country is held hostage by people who dream of restoring the empire.
- Who is to blame for the problems you have listed?
- We all are. I can only judge by myself. There are some things I haven't said, some things I haven't done. Those people who consider themselves patriots and care about the future of Belarus should not be silent, but talk to the neighbors, friends, on the street, at work. We should start with ourselves.
People are the key to everything. Everything in this country depends on each of us. I will take part in the election campaign in order to talk to as many people as possible, to make it clear to everyone that he or she is not just a cog in the system, but a person. We need to regain our rights. The right to choose the power is the key one for today.
- Why is that?
- All Belarusians want it. Today's power is satanic, I can't find any other words after what it did, for example, in Kurapaty. It doesn't have to be this way. Only a person who will not go against God, against his people, should lead the country. Laws must be observed, and they must be the same for everyone - for the president, for officials and for common people.