Head Of British Foreign Office Called On Belarusian Authorities To Release Journalists
5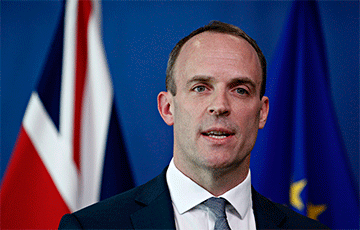 All charges against them must be dropped.
British Foreign Minister Dominic Raab has called on the Belarusian authorities to release the detained journalists. The politician wrote about it on Twitter.
The head of the Foreign Ministry also called to drop all charges against journalists. He noted that reporters are imprisoned in order to silence them and prevent the dissemination of information about violations of rights and freedoms of the Belarusian people.
I call for the immediate release of all journalists arbitrarily imprisoned in #Belarus, & for charges against them to be dropped. This is a cowardly attempt by Lukashenko's regime to silence dissent & stop the reporting of #humanrights violations against the Belarusian people.

— Dominic Raab (@DominicRaab) November 24, 2020
Today 12 journalists are behind bars in Belarus on administrative or criminal cases: they are tut.by journalist Katsiaryna Barysevich, tut. by and Novy Chas journalist Aliaksandra Kvitkevich, Belsat journalists Katsiaryna Andreyava and Darja Chultsova, BelaPAN journalists Maksim Lauretski, Yuliya Kotskaya, Andrei Shauliuha and Andrei Rabchyk, journalists Aleh Hruzdzilovich, Ihar Karnei, Maryna Kastylianchanka and Katsiaryna Miadvedziava.
According to the Belarusian Association of Journalists, during the elections and the post-election period, 390 journalists became victims of persecution, including 77 who went through administrative detention.
Belarusian human rights activists recognized Katsiaryna Barysevich, Katsiaryna Andreyava and Darja Chultsova detained in criminal cases as political prisoners. Amnesty International called Barysevich a prisoner of conscience.