Eismant Got Infected With COVID-19 Being Vaccinated With Russian Vaccine
150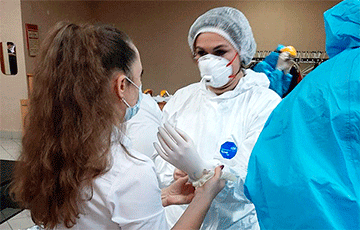 "Massandra" talked about her illness and how Siarhiyenka had been put on life support because of the Cockroach in the leaked telephone conversation.
The Nexta telegram channel leaked another phone conversation of people close to Lukashenka. This time, the conversation between Cockroach's press secretary Natallia Eismant and his assistant on general questions Mikalai Latyshenka was published.
Eismant complains in it about the way she feels (it took place in the morning of November 22). Asks Latyshenka to tell "the chief". (Lukashenka - note), that she will not come "to the headquarters". She lamely hints that she has been infected with coronavirus, despite being vaccinated with Russian vaccine. "Frankly speaking, I don't feel good," - she admits. "I can't get up from the sofa," - she adds later.
"Massandra" supposes that she got infected at the foreign policy meeting on November 17. According to the interlocutor, Ihar [she might be referring to the head of the Cockroach administration, Ihar Siarhiyenka], who was ill with coronavirus, was present at that meeting: "the chief" had forbidden him to miss the event. At the meeting, the woman, already vaccinated with Russian coronavirus vaccine, sat next to him. Ihar was without a mask so as not to make the "boss" nervous. Now, according to the woman, Ihar is on a life support, he is not doing well.
It turns out from the conversation that a lot of AP employees do not go to work for a month or more under various pretexts, that Eismant got in bad odor with Lukashenka, she is constantly terrorized by unknown numbers. As well as other interesting details about what the swamp called Lukashenka's regime looks like from the inside.