Hanna Tolchykava: We Should Be Aware Of Our Strength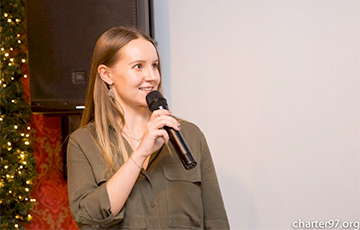 2020 can be a turning point for Belarus.
Hanna Tolchykava became the youngest laureate of the National Human Rights Award-2019, presented by the Charter'97 on January 31 in Warsaw.
Her emotional video instantly went viral on the Internet. The young IT specialist was an observer at the so-called "parliamentary election" in Belarus, and recorded an impudent falsification of the turnout, and rigging of the voting results.
Hanna Tolchykava received the award for upholding the right to fair and free elections in the nomination "For personal courage".
After the award, Charter97.org correspondent spoke with Hanna Tolchykava in Warsaw.
- What did you feel when you found out you won the Charter'97 National Award?
- It was the effect of complete surprise, complete shock: I still hardly believe that my name is inscribed in the history of the award alone with, for example, Stanislau Shushkevich.
You know, such an embarrassed state, I think, "do I really deserve it?", but it's very nice.
It's just my nature, I was probably born that way, I have a desire to make the world after myself better than the one I came to. I think this is the main achievement a person can make. To leave something improved after themselves...
- You have mentioned in one of your interviews that your role model is Natallia Radzina, the Editor-in-Chief of the Charter97.org website. Why so?
- Probably because there are not so many bright and business-minded women in the political arena. When you develop and grow, you look for role models. And in the film "Studio X97" with Natallia's participation, in addition to the background I was aware of, besides everything that I knew about her lengthy dedicated work, which corresponds to my ideals, I also saw the image of a modern, business-minded woman.
Everything just coincided here: in the behavioral and in the value aspect. Just an absolute fit into the image of the person whom I would like to take as an example.
Here in Warsaw, we talked live - and I reinforced the ideas that I had about Natallia in absentia. I saw that she is an experienced, competent, intelligent person striving to change our country. I'm ready to confirm my words: yes, I want to be like the chief editor of the Charter'97. And, you know, I've already achieved something in this regard: we noticed that we have very similar shoes (laughs). That's a start.
- Your livestream from the voting station steered up the whole country. Both the press and the social media wrote about you. How does it feel - to wake up a celebrity one morning?
- I tried to feel calm: I didn't want to be carried away somewhere on this wave. I kept telling myself: "Hanna, you are the same person as those who write to you, and you could also write to someone."
But what I did not restrain was a feeling of enthusiasm. I did not hold these emotions in myself, and I remember that I felt euphoria at that moment. I recalled all my disputes with people on political topics, when they tried to prove to me that Belarusians were supposedly "apathetic", they "need nothing", " no one is interested", "everyone is disappointed", "such a country" ... You know, such stereotype phrases. Each of them made me start "boiling", I told them: "It's not true, there are people, we just don't feel our unity. Each of you is dissatisfied in their own way, and all these threads of discontent converge to one point - the one who runs our country. There is discontent - people do not have the feeling that they are discontented together, that there will be real force if they take to the streets. That's what is missing - the feeling of unity."
And when I read all those comments to my video, I felt: here it is, the unity. I theoretically believed in it, I felt it - that we have a huge protest potential. But suddenly - I accidentally forwarded all this on myself. I received hundreds of personal messages, and at the same time there was not a single angry message. This was surprising, because regarding such resonant events, whether you like it or not, opinions are divided.
Also - it was amazing - there was a unanimous enthusiasm in everyone who wrote to me. Among the thousands of comments and messages, there were literally a few from those who had already acquired cynicism and wrote something like: "Didn't you know where you were going to?" This was perhaps the most negative comment of all.
Also, I was surprised by the unity - in thousands of comments, under hundreds of thousands of views (for today I have already collected about 500-600 thousand views). In fact, we are united. Someone needs to somehow explain this to people, so that we feel this unity, feel our strength.
So, enthusiasm is the most important thing that I learned from this experience. And the proofs that I was right.
- How did your family and friends take your popularity?
- The reaction was calm. If we go in detail, there were two main types of reaction. The first was expressed in the question: "Have you already had some trouble for this?" That was the top question. I can still answer it: "Everything is calm, there was nothing." But morally, if anything, I'm ready to talk to anyone and answer any questions about my actions. For none of my actions I do not feel even minimal guilt: I said everything as it is, and spoke only the truth.
- Why did you decide to go observe the "parliamentary election" in the first place?
- I have been discontented with the authorities since 2010 Square. That is, for almost 10 years I was such a "latently protesting" person - like most Belarusians. But, probably, by nature I have such an "ingredient": I believe that if I am dissatisfied with something, then I need to change this, and not just glue my hands and say that "this is the country we have". When I hear this phrase, everything just boils inside me: what does "this is the country we have" mean?
Any reality is molded by people, and to say "this is the country we have" is the same as to the recognize that those people who created "this country" are superior of you. This is the same as saying: they put a leash on me, and I agree with that. It revolts me. I draw the picture more broadly: maybe people themselves have set limits on their assessment of surrounding reality? They argue: they gave it to me, "this country" - and I do not look beyond the screen further. And I look further: why is the screen like this, why is life like that?
The agreement with the formula "this is the country we have" leads to the fact that ordinary people who go to the same shops or restaurants as we do, the same mere mortals, made, as they say, from the same bones and meat, are not at all special - once thought that they are better than you, stand above you - and you agreed with this. But I do not agree. And these are not some of my whims - this is the problem of the whole society. I see that a huge number of people are suffering, that worthy people live like beggars ...
I will not say that my life is kind of hard - no, I worry about most of my compatriots. In principle, everything is fine with me, but it makes me sad all the more: I want Belarusians to live happily next to me. I am very sad for our old ladies, who are sitting near the crossroads and selling these potatoes, cucumbers ... This is not how the old age should look! I want to cry because of this ...
We, young people, travel to Europe, and we see a completely different picture. Somehow it turned out that my friends and I lived in a hotel where elderly people stay. It is fantastic! That should be a decent old age: people travel, people lie in the sun, swim in the sea, where everything is oriented towards them. It's hard to move around - the hotel offers special cars that you can travel around the whole city ...
I love my country, my citizens and I want my native people, my Belarusians, to live the same way. I want to spend my old years like this. Why do people in Europe deserve this, and we don't? It very much revolts me and I very much empathize with those who are not protected in our country.
- What has become the last "boiling point", after which you made up your mind to come out of the voting station and publicly tell what was going on?
- I'll clarify a little: I couldn't stay on the site, the observation and voting had already ended there, and I had to leave. But as for the stream - yes, it's really boiling ...
I'll tell you everything by order. I actually observed at two voting stations, and even survived the procedure of depriving me of accreditation.
It all started at the voting station #571, the Center for Children and Youth "Svetoch", the chair of the commission was Natallia Baravik. It all started with her - a "wonderful" person ... I was removed from the voting station in violation of all possible rules and procedures. The removal took place on November 14 - arrogantly, and with personal disdain for me. And they did it in vain: before that, I never thought there was so much pride in me. I was very indignant: I felt how much I respect myself, and at the same time they treat me as if I were the very last element. You know, I am more respectful of people who ask for money in the street than the members of the election commission, who are actually endowed with a minimum of power, reacted to me.
They removed me on November 14, and the deprivation of accreditation was carried out on November 13. And this is not only disrespect - the commission violated the law. After all, I had a huge number of witnesses that on November 13 I was at the voting station, observing. In addition, that day there was frank criminality at the station, that fell under Article 192 of the Criminal Code (distortion of the voting results - because I saw that much fewer people came to vote than they indicated in the documents).
The internal affairs department simply redirected my complaint about violations to the district commission, and the next day I saw the chairperson of the commission of the district #107 coming. She responded with such contempt to my comments about violations, as if I woke her up at three in the morning, and forced her to go to some grocery store.
I realized that no checks will be conducted with regard to my statements: they have everything set, the commissions at all levels are involved in rigging turnout. This feeling of injustice "fueled" a personal moment (the way they interacted with me). And then, at the second voting station, where I, in fact, "exploded," the chairman prepared a very unpleasant provocation: she simply yelled at us, independent observers.
And we couldn't answer her anything - and it's very difficult when everything is seething in you and you want to defend your honor. But you do not have even the slightest possibility: if you tell them at least a word, you will immediately give an occasion to swear and throw you out of there. Therefore, we could not stop the man who was screaming at us and screaming at the groundlessly.
Even me, a healthy girl, felt bad after this, and I went to the first-aid post for help. And the second observer - a professor of mathematics, a 62-year-old man, kept on laying corvalol under his tongue all the time, having seen all this. Imagine, a respected professor, a very intelligent and good-natured person, takes a pill, and says in such a self-ironic way: "I really want this old man to survive this election".
Everything summed up that evening - including the fact that these people absolutely did not repent of what they were doing. I was told before that they are so miserable, because they are forced to do this "work" under duress ... No! They spun there, as if in a wheel, with a superior look. Some even told me that they would be given a good bonus for this "work".
And now add to this a sense of meanness of what is happening, a sense of humiliation and lack of rights - and it will become clear why I "set on fire" from the inside this much. After all, I am a citizen of my country, and at that moment its fate is being decided - and therefore, my own fate. And the fact that I saw how the deception mechanism was built up for them - everything summed up together, and resulted in making this video.
And one more thing: it wasn't just "boiling up" inside me - at that moment I felt insecurity against the system, and I wanted to ask Belarusians for unity. "Well, let's do something," - of course, I didn't say these words then, but my video carried some kind of inner desire for people to stand up for me. Well, how can it be any other way? We, the citizens, are left face to face with the state, but after all, help is priceless, so we must hold on to each other and support each other. If someone in the crowd is attacked - beat back, defend. After all, we are strong in mass ...
And I also hoped that if something suddenly happened, someone would become my defense.
- You have mentioned that the Square-2010 became a turning point for you. Could you give us some more detail - what influenced you the most back then?
- During that election campaign, I discovered the world around me. Before that, I lived, like most people - minding only my own business, my own problems. I had studies, it was the third year in the BSUIR. I was not very interested in what lied beyond, and I did not fully understand which country I lived in. At my personal level, everything was organized normally: school, lyceum, university ...
And here, with the beginning of the election campaign, a large informational stream of critical news about life in our country began. And when I started reading this, when I began to rebuild my consciousness a bit more globally, I was horrified that my whole life went under such a cloud, that it was ruled by such stupid decisions.
I remember that it all started with my surprise because of our economic situation and the ways of managing our enterprises. I was horrified: is it really possible to channel billions in such a mediocre way somewhere? The money again and again went to the same "village development" - and when I visited my grandmother in the village, I saw no progress there. What are these management methods? I was simply struck by the negligence in the country and why professionals do not do these things. I was outraged that billions were flying somewhere into the air in a poor country.
I would like professionals to occupy important places, but instead we are managed in the old fashion by post-Soviet directors and officials - through shouting, swearing, through "I'm the smartest here".
It all started with the economy, but closer to the elections political moments and a keen sense of injustice also surfaced. I was particularly struck by the memory of how they attacked the convoy of presidential candidate Uladzimir Niakliayeu. Then I began to delve deeper - and what is going on in politics? It turned out that there was just lawlessness - there was criminality, the absence of any laws, and obeying personal "code".
And the further, the more the rejection of this deepened. I was in the Square - and they started lying about it, lies poured from the screens, including from the "guarantor" himself. Like, there was a "paid opposition", they carried stuff with them ... I personally went there, there were students around me, there were ordinary citizens whom I see every day - they were Citizens of the Country who have the right to say that they are against, that they want to change power, change the one who decides everything for everyone here. It was the sincere will of the people.
And all this lie that poured from the screens, it created me, shaped my consciousness, the understanding how we live in our country. And I realized that since then I do not believe a single word that sounds from a certain person - because he lied about me as well. I was there and saw everything, I knew with what intentions I was going there, I knew the people who were there with me. I saw the square from where they pushed the people away. The footage that was later shown on television - with reinforcing bars scattered all over - was all a lie. There were clean tiles under our feet. What reinforcing bars, what are you talking about? Ordinary men who walked nearby, I, a student in a puff jacket - what, did I carry some kind of reinforcing bars? I don't even know where to find them ... And on the TV the whole Square was strewn with some sticks, pieces of iron ...
This slander against its own citizens completely lowered this power in my eyes. Because if the government is lying against citizens, then it is absolutely illegitimate, it completely discredited itself.
Since then I am what I am. And then more and more facts have surfaced. I thought that nothing more would strengthen my contempt for this power, but when I found out about the reprisals against Zakharanka, Hanchar, Krasouski, and Zavadzki, I was shocked. After all, there, in addition to lies, lawlessness, and disregard for the laws and rights of people, there was also crime and blood!
I admit that I recently learned about these killings - when this topic was raised again. Of course, I saw that people went to the center of Minsk with portraits, but I was an ordinary person who could not know about everything that the authorities did, and that there was blood and crime in it.
And when I found out, I realized that there was nowhere to lower this power any more. In the 21st century, we are ruled by people who - absolutely everyone understands this - are involved in the disappearances of the most prominent political figures. At that time, when the scales were on equal footing and could swing towards the opponents of this power - a click, and key people disappeared ... Any smart person understands what is behind this. Physical reprisals mean crossing some serious line.
- You are a happy person as you represent of the of the most popular profession in Belarus - a software engineer. It may seem, you could calmly work, buy real estate, travel abroad on weekends… Why do you react so sharply to what is happening in the country?
- I will tell you a little secret: I have not been working in the IT sphere for several years. In general, yes - any injustice has always evoked an internal emotional response in me. For some reason, I am not happy if I live well and have enough for me, while others do not.
And in general it's strange for me - how can one get obsessed with oneself and one's material existence? We live in the society. Once you leave your apartment and walk the streets - and there is dirt under your feet, cars are parked in green areas, people are unhappy ... And how then can I be glad that there is some amount of money on my account?
After all, life is more than just building an apartment. I see people around, with their concerns, I see, as I said, the same old ladies who barely stand in these underground passageways, in the cold ... Even I with my younger body would not have survived there. You buy flowers from them not because you need to, but because you feel pity for the old lady.
Is it normal to walk around your city and feel pity left and right? Not only that, I somehow arranged my life financially. And what's more, it helps to tackle the problems of other people.
After all, I can, for example, afford travelling abroad, to see how things go there. As a result, when you come - and you want the same for yourself, you notice that something is missing, something is not happening here.
I cannot help but sympathize with other people. I don't know how it is possible to live, with money being the only source of joy.
Again I want to recall the 2010 Square. What happened then if not the meanness and villainy of the power? It was a spit on all people. After all, the way the peaceful protesters were dispersed was not just lawlessness, it was a state crime, committed in the eyes of millions of people. And it seems simple and understandable to me that after this a heightened sense of justice should wake up, that a person would try this situation on themselves and think: if I am here alone, by myself, then in their eyes I am probably a bug that they would want to crush...
We do not have the right to continue to maintain such a state. And now, in 2020, we have the opportunity to say it to them - loudly, much louder than even in 2010.
- It is obvious from your accounts in the social media that you have an interesting hobby - karate. How long have you been into it, ands why did you choose exactly this type of martial arts?
- I just once saw a fight scene in the movie - it seems to me that it was Van Damme. And suddenly I realized: I want the same. My body just physically said that it wants to be able to do the same. I found a very strong charm in this philosophy, in the ability to control my body - and it captivated me very tightly, I found a section in Mahiliou and for many years, starting in 2000, I have been engaged in this. At the moment I have a brown belt.
I admit honestly: I don't consider myself an Amazon, a woman warrior, but at the right moment I can defend myself.
For some reason, I like it: to come to the gym and practice. I like some kind of power energy - in childhood, for example, one of my favorite rock bands was Rammstein.
In addition, it gives certain self-confidence, tranquility. Of course, you don't bring a knife to a gunfight, but if something happens, I know that I will not give up without a fight. Of course, I take into account my complexion and my weight, but my body can recall some skills at the right moment.
- What do you expect from this year, and the presidential election? Is there a chance to change something in the country?
- I expect justice for Belarus. And justice means the change of power.
- How can it happen?
- In my opinion, by giving confidence to ordinary people.
The first and main component - the total dissatisfaction with the power - we already have. This is visible all over the place, no one even needs to be convinced of this.
People themselves understand what is happening around, and they see this constant lies from the authorities, and the attitude to the citizens in the offices of officials, where you come as if some poor peasant, bowed - and there they sit, thinking they are superior! They should serve us, not vice versa.
So people themselves understand everything: they are unhappy and see where everything that annoys them comes from.
And the second component is the people's confidence in their strength. We don't have enough of this so far. Everyone understands that everything in the country is arranged incorrectly, but individually, every person considers themselves powerless. And uniting people through their inspiration is what we now need. Want a change? Come out - you, citizens, are the source of power in this country.
Now I am in Poland (at the moment of recording the interview - edit.), the people here are almost the same, it's hard to distinguish them and us, as if I had not left Belarus. Why do they now have an average salary of more than 1000 euros, and in the 1990s we started at practically the same point?
We are the same, we can build a similar country, successfully developing and accumulating our potential.
The time has come for changes. There is a basis for this in our society. It is only necessary to inspire people - so that they feel their fighting power and take to the street.
I see, including by the experience of other countries, that it is precisely mass disobedience and mass will of citizens that may help today.
- Tell us about your nearest plans.
- In the view of the important events, that, I am sure of this, await our country this year, I am ready to join any activity which could bring changes closer to us. I want to dedicate as much energy as I can to this goal, I want the year 2020 to be a turning point for Belarus. The time has come. Because that's just enough.