Lukashenka: Egypt Is Situated In Such Region Where Hockey Can Be Developed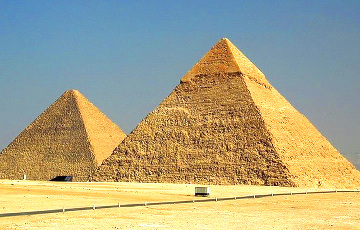 The dictator has told the Egyptians about hockey.
on Thursday, the two-day visit of Aliaksandr Lukashenka to Egypt continued. On Wednesday, negotiations were held, and on Thursday they went on a tour. And not to the famous pyramids, but to the so-called new administrative capital of Egypt, kp.by writes.
Egyptian President met Lukashenka at the Al Masa Capital complex, which houses a major congress center, 14 presidential villas, 60 hotel apartments and the Al Masa Royal Palace hotel. These days it hosts the first meeting of the Belarusian-Egyptian Business Cooperation Council and the exhibition of joint scientific and technical projects. After a short conversation they exchanged gifts and went to see the facilities of the future administrative capital.
They decided to build the new capital of Egypt in 2015. According to the plan, the "garden city" for 6 million people should grow in the middle of the desert 45 kilometers east of Cairo. There are plans to move all administrative and financial institutions of Egypt and to relocate 6 million people. Everything is planned in order to unload Cairo, where 20 million people live now, and 40 million will live in 40 years! And they also say that it is necessary to isolate the administrative buildings from the large crowd of people, when demonstrations and unrest are possible. The construction will take seven years. The cost of the first phase of the project alone is 45 billion dollars! The construction money is borrowed from the UAE and China.
Lukashenka was shown various objects, including the ice palace under construction, asking him about the Belarusian experience in the construction of such objects. Lukashenka advised to make a multifunctional demountable ground so that the arena could be used for various sports, including ice hockey:
- Egypt is situated in such a place where ice hockey can be developed. We once built the first ice hockey arena in the Emirates.