People Came Out in Support of the Activist of the "European Belarus" Whose Son Was Stolen by Lukashists
19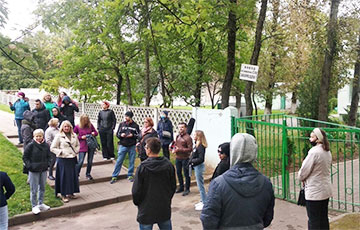 The action takes place near the orphanage in Minsk.
People gathered for a solidarity rally near the social and pedagogical center with an orphanage for children in the Frunzenski district of Minsk, where the six-year-old son of the activist of the "European Belarus" Alena Lazarchyk is staying, Charter97.org reports.
Hundreds of people have already gathered around the orphanage of the Frunzenski district of Minsk; people continue to come.
Six-year-old Arciom was taken to an orphanage while his mother was at the police station. No protocols were drawn up against Alena; the woman was held without reason for more than 5 hours.
Journalist Iryna Khalip told the story of the kidnapping of the child from the parents while the mother was kept in the police on Facebook.