Dzmitry Bandarenka: Belarusians Will Be Able to Get Rid of Lukashenka by Early May
28
20.01.2021, 12:45

165,457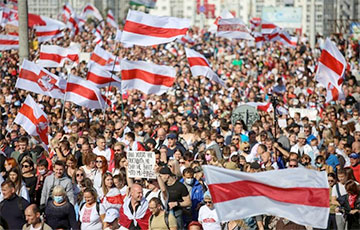 There is a war going on within the system.
One of the Belarusian opposition leaders, coordinator of the European Belarus civil campaign, organizer of many mass protests, and former political prisoner Dzmitry Bandarenka stated this in an interview with the website Charter97.org.
- The main news of recent days is the return to Russia of opposition leader Alexei Navalny after the poisoning. How do you evaluate this step?
- I take off my hat to the courage of Alexei Navalny. This step is also respected because he was recently on the verge of life and death after poisoning.
I don't really like that they immediately began to draw parallels with the Belarusians, that someone should also return to Belarus from abroad. It seems to me that our situation is completely different. There are several leaders in our prisons who mean much more than Navalny in the Belarusian situation. This is Mikalai Statkevich, Pavel Seviarynets, Yauhen Afnahel, Siarhei Tsikhanouski, Viktar Babaryka, and, probably, even Maryja Kalesnikava. These are the people who put everything on the line, took the risk, and went to jail. But the difference, for example, between Statkevich and Navalny, is that his sacrifice was not in vain. We talked a year ago with Mikalai, and he said that he was ready to participate in the presidential elections, ready to go to prison, ready to give his life, and consistently fulfilled his promises. Most importantly, his actions led to the Belarusian revolution, as well as the other leaders' actions whom I have already named, as well as the courage of hundreds and thousands of Belarusians who have ended up in prisons.
We've had a revolution in Belarus, but will this act by Navalny be enough to start a revolution in Russia? I do not know if he has a team that can support his actions. Otherwise, it is a beautiful step for history, but we remember that even the death of Boris Nemtsov, in which the authorities were clearly involved, was not enough for really massive protests to start in Russia.
- The revolution took place in Belarus but did not win; people continue to be in prisons. We see that the protest activity continues, but it has significantly decreased. How important is the role of people in prisons? Maybe it's better to really stay in exile but continue to act?
- I can talk about myself. I left the country in 2012 because I understood: they would put me in jail again; Lukashenka directly threatened Sannikau and me on television. But I will say that before the release of Mikalai Statkevich and before the return of several leaders from abroad to Belarus, I did not think that I had the right to urge people to take to the streets and fight, although it is clear that fighting against the Belarusian dictatorship is the duty of every Belarusian. We know that the people have the right to revolt, and the people must fight tyranny. In 1996, a constitutional coup took place in Belarus, so we just have to restore laws in the country.
Friends inside the country told me that for a common cause I need to be abroad, I will be more useful here, there are several issues in the solution of which no one can replace me. Our cooperation within the Belarusian National Congress framework, with the same Mikalai Statkevich, was successful. This is evidenced by the propaganda campaigns that were promoted on the Belarusian state media and television. This is the interception of Statkevich's conversations with me, Frau A.'s "testimony," where my surname and my colleagues' names in the Resistance were named.
I believe that in today's situation of mass repressions, the fact that a large number of middle and high-level leaders are abroad is beneficial and useful for the Belarusian revolution. However, people who are abroad should understand that the fate of people in prisons and millions of people who live in a concentration camp called "Lukashenka's dictatorship" depends on their activity, their creativity, their actions, and organizational abilities. We should not be engaged in improving our life abroad, but we must do everything for the country to be free so that our comrades get out of prisons and we can return to a free country.
- Just today, we read the appeal of one of the users on social networks: stop relying on the leaders who are in prison or in exile; let's take responsibility for ourselves. Maybe it's true?
- I think that Lukashenka is done because millions of new people and thousands of new leaders have come to the revolution. It is worth a lot that thousands of people went through prisons, were in very harsh conditions, and did not break down. Perhaps, after being in prison or on Akrestsina Street, someone will stop being active, but I think a significant part of people will continue to fight. I read on social media and in independent media interviews what people say prompted them to fight and tell stories about what became the engine for them.
For example, I have a reporting point when I decided that I will fight the dictatorship (and this was long before Lukashenka) when I discovered forbidden literature and learned what was happening during the Stalinist era. I realized that if I knew about this, I would have fought in the Soviet Union. Then, when the dictatorship of Lukashenka came, I had a ready-made solution. Now thousands of new fighters have come, thousands of new leaders who prove that they are real fighters and real leaders. It is impossible to defeat these people. This is one of the factors that gives confidence in the victory of our cause.
- Everyone was shocked by the recording of the speech of the Deputy Minister of Internal Affairs Karpiankou. Do you think all the security officials have such moods? What's going on there now?
- The guys from ByPol have already said that only stupid people support Lukashenka, that there has been a division among the security forces: the smartest people either leave or sabotage the orders of Lukashenka and the top. Of course, I hope that our security forces are no worse than the Portuguese or Romanian officers, who at one time took the side of the people and became the defenders of the people. I believe that some commander of a tank battalion or a tank company, perhaps, grabbing a glass of vodka, as in the movie "Demobbed," will say "let it all go to waste" and lead people, his fighters, against the dictator.
Of course, the selection has done its job: among the veterans of the armed forces, veterans of power structures, there are much more fighters, even among the leaders of the opposition, there are enough such people, but not among the active security officials. The most cautious and fearful people are athletes and the military, who are completely dependent on the authorities. Thousands of Belarusian athletes have already opposed the authorities, showed that they could organize themselves well. It is their merit that the Ice Hockey World Championship in the concentration camp was canceled. The military has been slightly delayed in development, but there is hope.
I think that even the AMAP officers have the opportunity to atone for their guilt. And if they oppose the fascist Lukashenka and those rich men who rallied around him, the Belarusians will be able to forgive them, and the new independent court will take into account their actions. They need time to reflect; there is still one and a half winter months in order to reconsider their attitude to what is happening. I think that the Belarusian security forces will still play their role because they are part of society. If the whole society is in motion, then something is happening in the security officials' heads.
- The nomenklatura has been silently observing the ongoing lawlessness, but how long will this continue because officials automatically become complicit in crimes?
- The second important factor that makes the victory of the Belarusian revolution inevitable is precisely the fact that not only the people is fighting against Lukashenka's system, but there is a war going on within the system. We see how Lukashenka's officials, who were, blood of blood, flesh of flesh, a part of the system, today are fighting against Lukashenka's officials. We see how Lukashenka's propagandists who quit ONT, BT, and other channels are actively fighting Lukashenka's propagandists. We see how Lukashenka's policemen, investigators, prosecutors are fighting against Lukashenka's cops. Even system bankers like Babaryka began to fight against the bankers of Lukashenka's system. And the same can be said about business because the same Hi-Tech Park has ceased to be the engine of the concentration camp's modernization, has ceased to be a "sharashka," and has become a place where many businessmen and employees of firms could express their voice.
Many considered them a stronghold of this regime because they had Zybitskaya Street, where they felt great, were the smartest, most successful, but, today, they are also struggling with the system, like other strata of society. The same thing happened with non-state media, which used to say that Makei is the head, the main strategist, that Lukashenka's policy is correct, that he is the guarantor of independence, that Prakaopenia is the most important moral authority in the country. And today, these journalists went to prisons, honestly fulfilled their journalistic duty, were subjected to hundreds of fines, beatings, and arrests. And this is a completely different situation.
Former Lukashenka's ally Plaskavitski said that officials are waiting to see who will win - the people or the dictator-and then announce that they won. Yes, there is such a danger, but then we must not allow a situation when some of these officials want to preserve Lukashism without Lukashenka. But that will be another story.
- When you talked about the former Lukashenka's officials who are fighting the current ones, you probably meant Pavel Latushka and the National Anti-Crisis Administration. Why today the so-called new leaders, the headquarters of Tsikhanouskaya, the same NAU, and the Coordination Council, do not offer clear strategies for victory?
- Because the former Lukashenka's officials did not have the first phase of "repenting," because people from the same NAU, when you ask them why they worked for him for so many years, answer: "But we never voted for Lukashenka." It seems that some of these people think that they are "born to rule."
But this is not important; the main thing is that they have taken a certain step and, I am sure, they will be the strictest judges for those officials who will join the revolution later. But we will not be too hard on them: how could they know something about the revolution if they served the dictatorship and did not know anything else. Yes, they saw how life was arranged there in the West, but they had no experience of holding mass actions, they had no experience of underground, none of them was in prisons. Who a year ago from Tsikhanouskaya's headquarters or Latushka's headquarters called for a revolution or could even predict that in 2020 there will be a revolution? These people could not do it.
Then they had euphoria; they did not understand that people like Statkevich, Seviarynets, European Belarus' activists, Basta did a lot to make this revolution take place. For example, activists of the Belarusian National Congress and European Belarus in 2019 for the first time did not boycott the so-called parliamentary elections but actively participated in them. And then, it became clear that the most powerful candidates, like Iryna Khalip, would not be registered; other strong candidates would be removed from the distance during this campaign. Then Statkevich traveled all over the country with a megaphone, speaking in markets, city squares; European Belarus held hundreds of pickets throughout the country, chanting "Basta to the dictatorship!" and "Revolution!" and was not afraid to call a dictator a dictator when speaking on television.
At some stage, it seemed to the associates of Latushka and Tsikhanouskaya that they would win on their own, but it turned out differently: they had no experience, no knowledge, no understanding of the situation. I hope they have learned something during this time. They understand that if they cannot organize protests in the very near future, this spring, the Belarusians will be disappointed in them and will look for new leaders. I really hope that they have become more sensible, more responsible in their actions.
- What do you expect in the spring?
- I think that Lukashenka is done, and if we all together, the new and old opposition, act decisively and intelligently, the Belarusians will get rid of him before the beginning of May. We have all the possibilities for this. It is clear that the economic situation will only get worse because a hard lockdown in neighboring countries will lead to the fact that Belarusian products will not be needed by anyone. If the fall in GDP in 2020, according to my estimates, amounted to at least 15% in dollar terms, then in the first months of the new year, this decline will continue. Hundreds of thousands of people who are not satisfied with their financial situation will certainly be added to the political protesters.
Now the Belarusian society is a certain cauldron because the Belarusians cannot go anywhere, neither to the West nor to the East. There have already been statements from Tsikhanouskaya's headquarters and Latushka's entourage that new grandiose marches should be prepared. Anyway, there will be a massive, strong rally on March 25, which could trigger a continuous protest. Again, many new leaders of Belarusian districts and regions, even our Olympic champion Astapchuk, say that you need to protest every day to win.
The tactics of large marches only on Sundays did not allow victory because, usually, all revolutions occur due to powerful daily protests over several weeks. Many have already said that if the Belarusians protest and do not go to work for 2-3 weeks, the regime will collapse. And I can predict that if this starts on March 25, then until May 1, Lukashenka's regime will be gone. But this will not happen by itself, we will all have to work very actively for this result, for this victory, but it is absolutely possible.
- It is surprising, by the way, that after 2010 in the independent media, there was a constant, incessant analysis of the mistakes of the leaders of the Square-2010, but now for some reason, no serious analysis of what happened from August to the present day is visible, and no one examines the mistakes of the so-called strategists who tried to manage these protests. Will this lead to the fact that these same strategists will again carry out actions on Sundays, poorly coordinate the columns' movement through the telegram channels, make all the same mistakes that were made last summer?
- These processes are going on, and analysis of mistakes is taking place; just the Belarusians are in a difficult situation, and they understand that Tsikhanouskaya is not really a leader-organizer. Her headquarters, entourage, and the Coordination Council made serious mistakes, but people cannot speak about it publicly because, in their minds, it will be support for Lukashenka. I know from psychology that there are two basic laws in group dynamics, two main pain points are the attitude towards the leader and the attitude towards the degree of closeness of interpersonal relationships in the group.
It can be seen that these processes have already started in the Belarusian society; people will understand and are already beginning to understand that Tsikhanouskaya is not a practical leader. How can she manage processes? It's like putting untrained people to manage a nuclear power plant. She does not have the experience to manage the revolution; no one leading the processes had the experience. They refused to use the experience of other countries and people who had such an experience.
People learn during the revolution; now, in fact, there is a rallying of the Belarusian society, opposition to the dictatorship. There are a lot of new leaders who know how to act, who are hardened by prisons, who are mastering new ways and coordination of management, and these people also understand that we have only one choice: either we win, or the country can turn into a concentration camp for a long time.
Unlike Crimea, "LPR," "DPR," even Chechnya, today the absolute majority of Belarusians are against the dictator. If we are not decisive, we will still win, but we will stretch this period for a longer time, and it will be more difficult to get out of this crisis. We must understand that this spring, there won't be Lukashenka, and strikes will be an important point. Each of us knows workers, engineers, employees of state and private enterprises who need to be set up, and you need to tell them: "Are you ready, Ivan Ivanavich, Vasil, Piotr to start a strike in April? Get ready, and we will be with you." Accordingly, the media, telegram channels, independent media should also talk about this, remind people that this is possible. We have a choice: either we win in a few months or suffer for another couple of years.
There is every reason to win this spring, and one of the main arguments is that the war is going on within the system, it will continue. These stupid elements of the system will not be able to control it; more and more people will resign, and now, most of these officials, security officials sabotage many decisions of the authorities. This is the guarantee of our common victory.
- You say reasonable things, understandable scenarios, but why are you so few in the so-called Belarusian independent media, while the lengthy and indistinct statements of the newly-minted leaders are in most of them?
- For some reason, the old journalists joined the new opposition. They, apparently, consider themselves to be close people of the system. At some stage, they made the decision to be positivists, not romantics, to be part of the system, to try to change it from inside. For them, this revolution turned out to be unexpected. Almost all non-state media said back in May 2020 that nothing would happen in the elections. It would be even quieter than in 2015, Lukashenka controls everything, Makei is smart, and so on. To begin with, all "analysts" need to admit that their forecasts were untenable. The same goes for editors-in-chief.
The second thing: the independent media had the argument that "they could not tell the full truth," but, at the revolutionary moment, they were useful, their journalists risked, were on the street during hot times, and, perhaps, this is justified. It seems to me that it is not a question of who is right - let's leave it to the historians. Let's all win together, and then we'll fight among ourselves and discuss. But let us be in the mood for the fight. A lot depends on journalists, and you can find those forms and those channels that will allow journalists to be journalists, to be honest, but, at the same time, to survive these few months in very, very difficult conditions of the dictatorship.
- You spoke about the need for mass strikes. Experts are talking about a record drop in GDP for 2020. How economically viable is the Lukashenka regime?
- Once, I had a friend whom I respected very much and whose opinion was interesting to me - the director of the Krynitsa brewery Uladzimir Zakharzvich Badrou; unfortunately, he died. I told him that the economy was falling, and he replied: "The economy can fall for a very long time, if one person has 10 dollars, and the second has 2, then the system can exist." Yes, of course, Belarusians had other earnings, but we see that the decline in living standards does not transmute into decisive actions.
I studied how revolutionary processes took place in other countries. The deterioration of the standard of living does not necessarily lead to a revolution, but, very often, a situation leads to a revolution when people saw freedom as if they felt it in their hands, imagined it in a vivid consciousness, and the authorities took away this dream of theirs, which was so close.
Sometimes this can be due to the standard of living when people are used to living in one way, and then, there is a sharp drop - this can lead to a revolution. But, for example, the Orange Revolution in Ukraine happened when the economic growth was 14-15%, but people wanted democracy. The authorities told them that "we have democracy," "fair elections," and then they had to cheat at the elections; this provoked protests from Ukrainians. The same thing happened with Euromaidan. Yanukovych said that he was about to sign an agreement with the European Union and Ukrainians would be able to travel to the EU without visas and then made a 180-degree turn and said: "None of this will happen. There will be an alliance with Russia." This sparked a revolution.
The same is with the Belarusians. We already believed that Lukashenka was gone, he left, and we won these elections. They saw how many of us were there, felt this change, and realized that we could live in a free country. And now these dumb-headed AMAP officers and GUBOPiK say: "No, you will be our slaves, you will work for us." This is the revolutionary situation, the inevitable explosion of the Belarusian steam boiler, which will sweep away the dictatorial lackeys who do not understand the laws of thermodynamics.
- What mechanisms should the West include today? The absence of strong steps and sanctions against the Lukashenka regime is striking. What's happening? Perhaps the pandemic influenced the reluctance of Western politicians to resolve the Belarusian issue?
- I am grateful to fate that I talked with revolutionaries from different countries, for example, veterans of the Polish Solidarity. From them, I heard one thing: do your thing, be strong, and then the world will support you. If you only hope for the West, then nothing will happen. I have been in emigration for more than 8 years, and I am even more convinced of this.
You cannot build the Kingdom of God on earth; the Western system is more just, democratic, but, nevertheless, there are enough swindlers, crooks, narrow-minded, selfish people here. For a part of Western society, dictatorships are for some time partners in risky matters. They do not always succeed in doing this, and failures occur, but, nevertheless, there are politicians who want to deal with the dictatorship. They also influence the media and politicians.
When the revolution took place in Belarus, some Western analysts and the media honestly said: "Well, nobody expected this from Belarusians! Well, the Belarusians just shocked everyone! Yes, we couldn't have predicted that. "And Belarusian politicians and analysts did not do this. But the West is an open system; they saw that a revolution had taken place, and they need to react to it. The cancellation of the Ice Hockey World Championship in Minsk is Lukashenka's defeat. But who did it? West? No, we, Belarusians, did it.
If we say why we did not win last year, let us remember that the same Tsikhanouskaya until the end of the summer not only did not call for strikes and protests but categorically opposed them. Even when she had already moved to Lithuania, received a letter from her husband, she said: "He is in jail instead of you, so you should not be in prisons," hinting that people should not go out. Then courageous Kalesnikava, having no experience, urged not to impose sanctions against Lukashenka. Maybe she has now changed her point of view, but, nevertheless, there was such a fact. And Tsikhanouskaya did not talk about sanctions until mid-October.
When the "leaders" abandon the essential elements of the revolutionary process, the process is delayed. These are the mistakes that were made. The most key meetings of the same Tsikhanouskaya were at the very beginning of her career with Merkel and Macron, and if she was then adequate, if she already spoke at least the way she spoke six months later, then Lukashenka would probably have gone long ago. But since she was inexperienced and weak, this also affected international politics.
Now there is popular control; people in prisons, their relatives, and those fighting inside the country understand that it is impossible to win without sanctions. They exert some pressure on the so-called leaders so that they do not drain protests but demanded the toughest sanctions and acted in the protesters' interests.
- Of course, we must be strong and self-sufficient, but we cannot ignore the Russian factor. There are conflicting signals from the Kremlin: on the one hand, we see that in the Russian, even pro-government media, there are a lot of critical articles about the Lukashenka regime. On the other hand, Lavrov, Shoigu, and other Russian officials come and verbally express their support for the dictator. Again, Yermakova's return to the post of head of Belgazprombank. Some interpreted it in a way that Putin had made a final bet on Lukashenka. In your opinion, what is the actual position of the Kremlin regarding the regime?
- We need to be even stronger in relations with Russia than in relations with the West. I would like to note that European Belarus and the country's patriotic forces will articulate their goals when fair, free elections are held after Lukashenka's departure. We, European Belarus, believe that the place of our state is in the European Union. But nevertheless, if our leader becomes the leader of Belarus, the first visit will probably be to Moscow anyway, because you have to be realistic.
Russia found itself in a very difficult situation. Putin himself did not want to become a hero of Belarus. If he had only waved his little finger, then Lukashenka would no longer exist, and he would have been a very popular and respected person among Belarusians, but he did not. Now the Kremlin has taken a pause in relations, and it will try to bargain for something from Lukashenka. For Yermakova, Lukashenka will probably hand over something, maybe land, maybe enterprises, or cheap transit.
But the power in Belarus will change anyway. It is clear that Russia will have to deal with the new leaders of Belarus, and it is also clear that it will influence the political processes in the country because it is important for it. Andrei Sannikau, Mikalai Statkevich, and I held such conversations. We understand that it is necessary to take into account Russia's interests, but, nevertheless, Belarus has its own national interests. It will be necessary to be able to negotiate, including with Russia, on the entire range of issues: economic, military, geopolitical, transit.
New elites will come in Russia as well, and world views will change because technologies change, older politicians leave, younger ones come, the world is changing; therefore, there will be changes in our countries. But we will remain neighbors who will need to negotiate. Even the war in Ukraine shows that when Russia tried to achieve its goals unceremoniously, it succeeded in something, something failed. Negotiations are going on anyway. Naturally, Belarus should have strong allies and, together with them, negotiate with Russia because Belarus is a strategic territory that is important not only for Russia but also for neighboring countries in the North, South, and West.
- One Belarusian poet, who since August went to all the protests and whose husband has served in prison, recently asked: "What helped others to hold on and fight for more than 20 years?" How do you answer her question?
- As I said, the decision to fight the dictatorship was made by me back in the late 1980s, when Lukashenka was not yet a politician. People make their own individual decisions, and each person has his own story. I did not live in a family of dissidents, did not live in a family of creative intelligentsia. In many ways, Gorbachev's perestroika opened my eyes to the world and the opportunity to read previously forbidden literature, which helped shape my attitude towards such things as freedom, honesty, and purpose.
My parents' upbringing is probably also important because my father, as a boy, was in a partisan detachment. My grandfather died in 1941, being one of the founders of the partisan movement together with Vasil Korzh. I read books about the war, about partisans, this also left a mark. Even under communism, people read books, watched films, made some independent conclusions. Already in the days of decaying, developed socialism, there was no such terror, but there was no truth either. The regime seemed to exist by inertia, and when publicity came, many opened their eyes. But for some reason, many of my peers, with whom we went to demonstrations during perestroika, were later able to integrate into Lukashenka's regime. This is amazing to me. Our lives could be changed faster. I was lucky that I was able to remain myself.