Belarusians Massively Attend Saturday Protests (Online)
16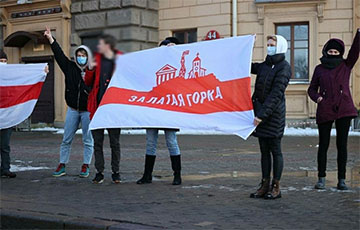 Marches and chains of solidarity take place across the country.
Today Saturday protests are held in Minsk and many cities of Belarus.
The website Charter97.org broadcasts Saturday marches and chains of solidarity online.
15:22 Minsk Kurasoushchyna went on a massive Saturday march. A loud "Long live Belarus!" is heard over the courtyards.
14:49 Residents of ancient Navahrudak, the first capital of the Grand Duchy of Lithuania, came out today for a rally of solidarity. Navahrudak also supported the demand of the Russians to release Alexei Navalny. "Russia will be free! Together we will defeat the dictatorship," the protesters said.
14:22 Partisans from Drazdova and Sonechny (Minsk region) went for a walk with national symbols. And the partisans of the capital Kamennaya Horka wish everyone a good day.
13:55 Uruchcha went on a mass march through the area. A huge column chants "Lukashenka to the paddy wagon!" and other protest slogans.
13:04 Free Loshytsa went out on the march and showed who is the authorities here. Residents of the metropolitan area walked with their neighbors.
12:40 Residents of the Minsk Uvaskhod took part in rallies of solidarity with the heroes of change. People stood in human chains.
12:11 Residents of Vitsebsk, Homel, and Ivatsevichy came out today for Saturday protests. Together - and until victory!
11:23 Residents of the Minsk region defended Ihar Losik. The rally of solidarity took place in Kopishcha.
11:06 Minsk Masiukouschyna held a powerful rally of solidarity. People chanted: "Freedom for political prisoners!"
11:05 Kalodzishchy-2 also marched en masse.
10:51 Palihon-Kalodzishchy with guests also went to the rally. "Belarus, wake up! The cockroach goes to the bottom!" people chant on the march.
10:49 Kurasoyshchyna chants on the march: "Long live Belarus! Long live Minsk!"
10:48 A yard march took place near Kavalskaya Slabada in Minsk.
10:37 In Minsk, courtyards of the Leninski district marched in support of all political prisoners. The huge column chants: "Look out the window, not the TV."
9:29 In Minsk, single pickets on the Minsk Ring Road supporting Ihar Losik and Aliaksei Kudzin began in the morning.