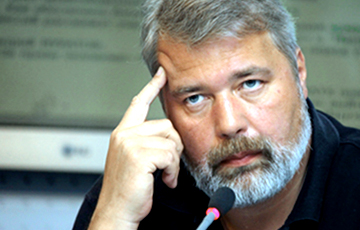 The main thing about Dmitry Muratov is the ability to defibrillate.
In the history of Russian journalism, Adam Michnik once said, there were only three prominent editors-in-chief: Alexander Pushkin, Alexander Herzen and Dmitry Muratov. One of them has won the Nobel Peace Prize today. And never before has the Nobel Peace Prize been more sniper accurate.
Six portraits hang in the editorial office of Novaya Gazeta. These are the murdered journalists. Andrey Domnikov, Yuri Shchekochikhin, Anna Politkovskaya, Stanislav Markelov, Anastasia Baburova, Natalia Estemirova. A bullet is faster than a word, unfortunately. Muratov was in a hurry to save his journalists, but did not always have time to overtake this damn bullet. I remember how he yelled: "I will rebrand Politkovskaya! No more Chechnya! " He did not manage. This was in 2006. Yesterday, on the fifteenth anniversary of the murder of Politkovskaya, Novaya Gazeta planted flowers in memory of Anna and all those killed. Today Muratov is finally awarded the Nobel Peace Prize. I'm telling again, this is a sniper hit.
Muratov has a long memory. Only in his payroll do journalists remain even after death. Only he remembers that the father of the long-killed journalist has an anniversary, and flies somewhere beyond the Urals. Only he interrupts his vacation and flies from the southern beaches to Moscow in order to arrange an old Samara friend in the hospital, although this could certainly have been done over the phone. Only he provides full escort around the city and to the airport for the widow of the famous writer, who broke her leg in Moscow - even if the writer had nothing to do with the newspaper, Dmitry read him in his youth.
Muratov flew to Chechnya to release human rights activist Oyub Titiev. For days he did not appear in the editorial office, did not crawl out of the bureaucratic offices in order to prevent the deportation of journalist Ali Feruz to Uzbekistan, where prison and torture awaited him. He came to Minsk when I was in prison in order to pass me a note, brought money for my mother. When I was threatened, and my husband was in prison, I called Muratov. And he, walking home at that moment, just turned around and went to the Belarusian railway station. He got on the train and came. It is not clear why. But he couldn't just go home either. He would grumble: "I'm some kind of editor-in-chief on call." He was being modest: he even arrives without being called where help is needed.
Dmitry Muratov is a former hockey player. Moreover, ice hockey for him is not just a hobby of childhood and adolescence, not just a youth team in which he played. Ice hockey is love. In 2014, he was going to come to see the final of the championship in Minsk. But he did not go for one simple reason: Mikalai Statkevich and Ales Bialiatski were still in prison.
Valery Kharlamov's autographed stick meant a lot to Dmitry Muratov. It was one of the most valuable pieces in his golf club collection. But when it came to raising funds to buy Spinraza for a boy with SMA, Muratov put Kharlamov's stick up for auction without regret and sold it for $ 100,000. The money went to little Matvey, Novaya Gazeta came out with the cover "Kharlamov plays for Matvey's team", and the next day Valery Kharlamov's son came to the editorial office and presented Muratov with another stick, with which his father went on the ice. Miracles are constantly happening around Muratov. There is no other way with him. Because the main thing in it is the ability to defibrillate.
Each of us, living in conditions of repression, wars, prisons, murders of friends, sooner or later find their heartbeat stopped. And then the lazy, viscous and disgusting stuff starts surfacing: "Well, just think, only two years in jail! After all, they didn't give ten". Defibrillation is needed for the heart to start working again. And in our case - auto-defibrillation, because people in white coats with special boxes do not come to journalists. Few can start their own hearts every day anew, and go into battle with any injustice. Muratov can.
It is useless to contact him with the usual whining - the salary is small, the runny nose does not go away, the slush outside the window, and I do not want to work. He will not notice, will not pay attention, will pass by. But if problems arose, if help is needed, if danger threatens, he will rush from anywhere in space. Muratov is both a disaster medicine and Chip and Dale the rescue rangers, hurrying to help. He is in a hurry even now: there is still so much injustice in the world.
No problem, he will manage.
Iryna Khalip, specially for Charter97.org