Belarusian Security Forces Are Pushing Migrants to New Attacks: What Is Happening on the Border With Poland
38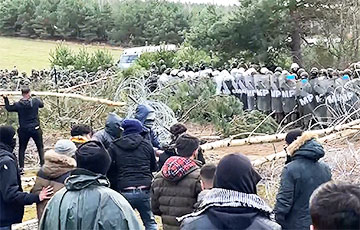 Migrants are given knives and other edged weapons.
The Lukashenka regime continues provocations on the border with Poland.
Today it became known that the Belarusian security forces gave knives and other weapons to migrants and are forcing them to attack Poland. Those who refused were beaten by the police.
The Charter97.org website has collected the main news about what is happening on the border of Belarus and Poland.
15.14 Belarusian security forces helped a group of migrants to break into Poland and then fled.
The video of the Polish territorial defense forces shows a large group of 50-60 migrants crossing the border illegally, accompanied by Belarusian security officials, who fled after a Polish patrol appeared in the area.
All migrants were caught by Polish border guards, according to Poland's territorial defense.
Duża grupa 50-60 migrantów nielegalnie przekracza granicę, są eskortowani przez funkcjonariuszy białoruskich, którzy uciekają po tym jak w rejonie pojawił się patrol @Straz_Graniczna. Grupa migrantów dzieli się na mniejsze, dalej wszyscy są lokalizowani i podejmowani przez SG. pic.twitter.com/RC70tnZppZ

— Terytorialsi - Zawsze gotowi, zawsze blisko! (@terytorialsi) November 13, 2021
14.15 The Belarusian security forces began to "calm down" the migrants by shooting in the air and shouting: "Sit down, f*k!"
This happened when residents of a camp on the border with Poland came to a bus from which food was distributed.
After the shots were fired, the migrants began to stand in a chain.
14.03 Migrants started setting up tents right on Niamiha in Minsk.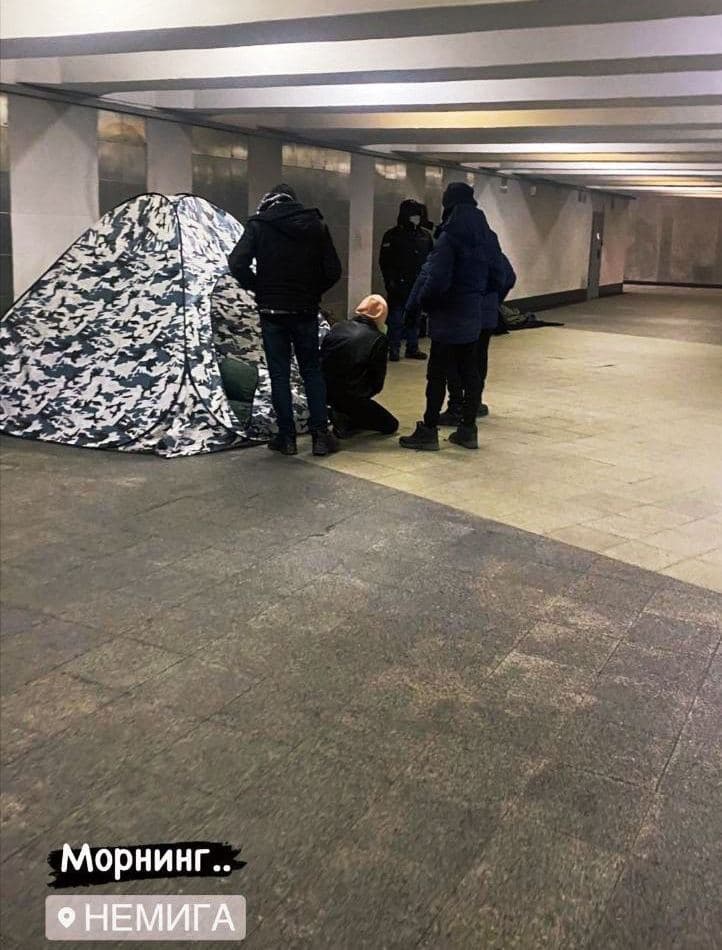 13.42 Lukashenka's Emergencies Ministry and other services are building a huge camp for migrants on the border with Poland.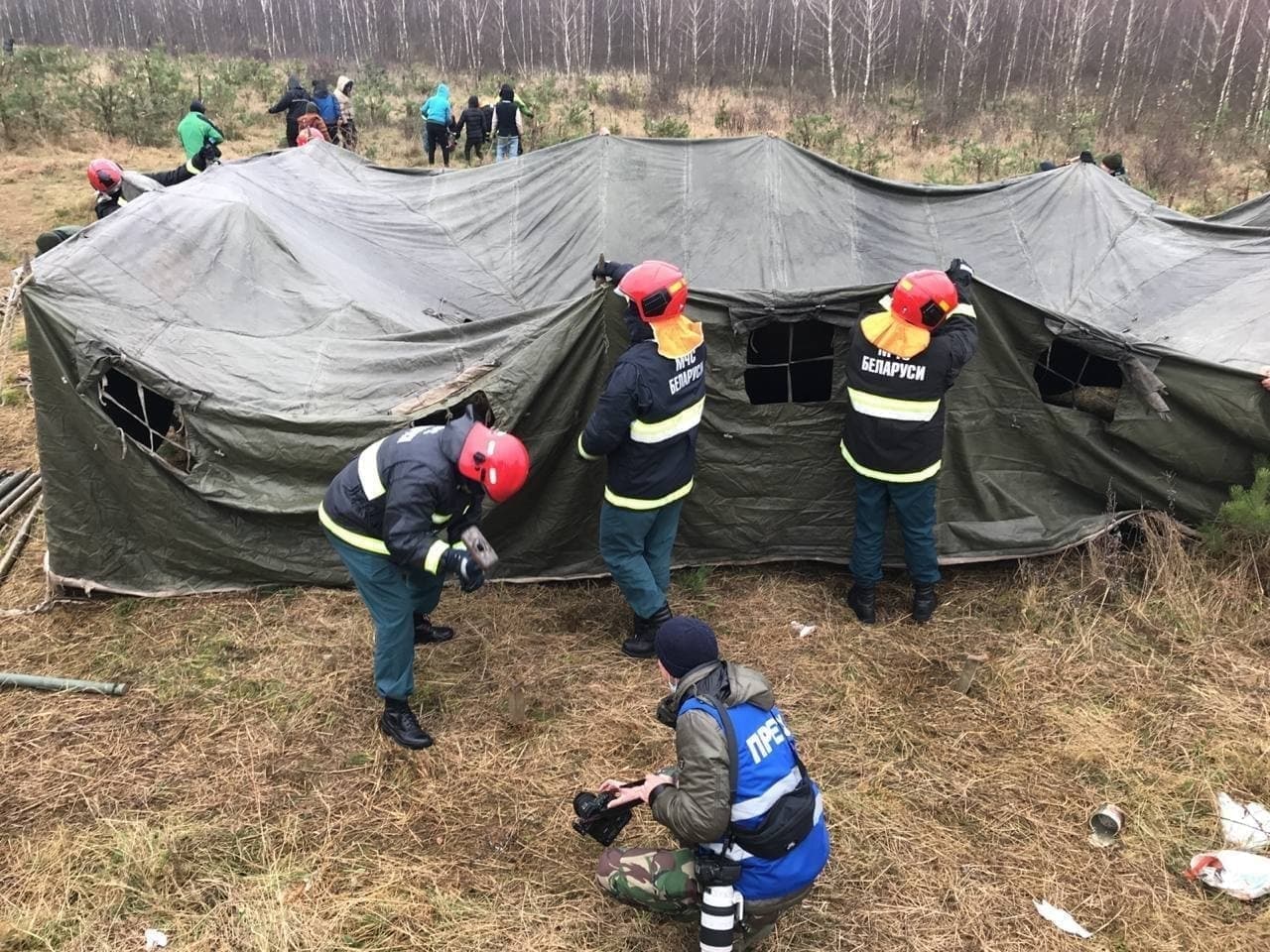 13.05 A large group of migrants gathered near the Gallery shopping center in Minsk. Most likely, they will also go to the border with Poland or Lithuania.
12.40 Poland is ready to block the railway traffic with Belarus, depriving it of transit, said the Minister of Internal Affairs and Administration of Poland Mariusz Kaminski on the air of the radio station RMF FM.
"They (the Belarusian authorities - ed.) know very well that we can close the crossing points, as well as train traffic. Belarus is an important transit state," said Kaminski.
12.02 Polish border guards report that at night in the area of the city of Czeremcha, Belarusian soldiers began to destroy a temporary border fence.
They tore down the fence posts and tore the wire on the service vehicle. The Polish services were blinded by laser beams and strobe lights.
W nocy w rejonie m.Czeremcha, żołnierze 🇧🇾 zaczęli niszczyć tymczasową zaporę graniczą. Wyrywali słupki ogrodzeniowe oraz rozrywali concetrinę przy pomocy pojazdu służbowego. Polskie służby były oślepiane wiązkami laserowymi oraz światłem stroboskopowym.

— Straż Graniczna (@Straz_Graniczna) November 13, 2021
11.40 A group of about 100 migrants tried to break through the Belarusian-Polish border. Migrants used tear gas against Polish border guards.
The Polish border service said that the Belarusian security forces provided gas to the migrants.
10.59 On November 12, the body of a young Syrian man was found in a forest near the border with Belarus, Polish police said.
The Syrian died near the Polish village of Wólka Terechowska. On the Belarusian side of the border, there is the Kamenets district of the Brest region. Earlier it was reported about at least 9 deaths of migrants at the border.
Wczoraj w lasach, niedaleko granicy, pod Wólką Terechowską, odnalezione zostały zwłoki młodego mężczyzny narodowości syryjskiej. Przeprowadzone w miejscu odnalezienia ciała czynności, nie pozwoliły na jednoznaczne ustalenie przyczyny śmierci. pic.twitter.com/RhlADj0IdD

— podlaska Policja (@podlaskaPolicja) November 13, 2021
10.43 According to the Financial Times' sources, new EU sanctions may hit the Syrian airline Cham Wing, Minsk airport, hotel Minsk, as well as other entities and individuals involved in the migration crisis on the Belarusian-Polish border.
10.38 Belarusian cyber partisans identified Lukashenka's security officer who blinded Polish border guards with a green laser.
It turned out to be Vasiliev Valery Vladimirovich, born on July 17, 1980.
A serviceman of the 2141 military unit (Hrodna border group) lives in Hrodna on Kasmanautau Avenue and drives an Opel Vectra car with license plate number 3682 ET-4.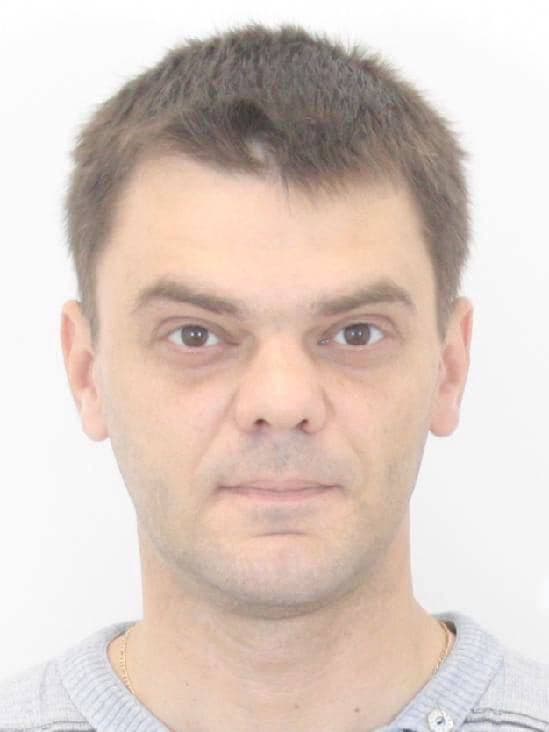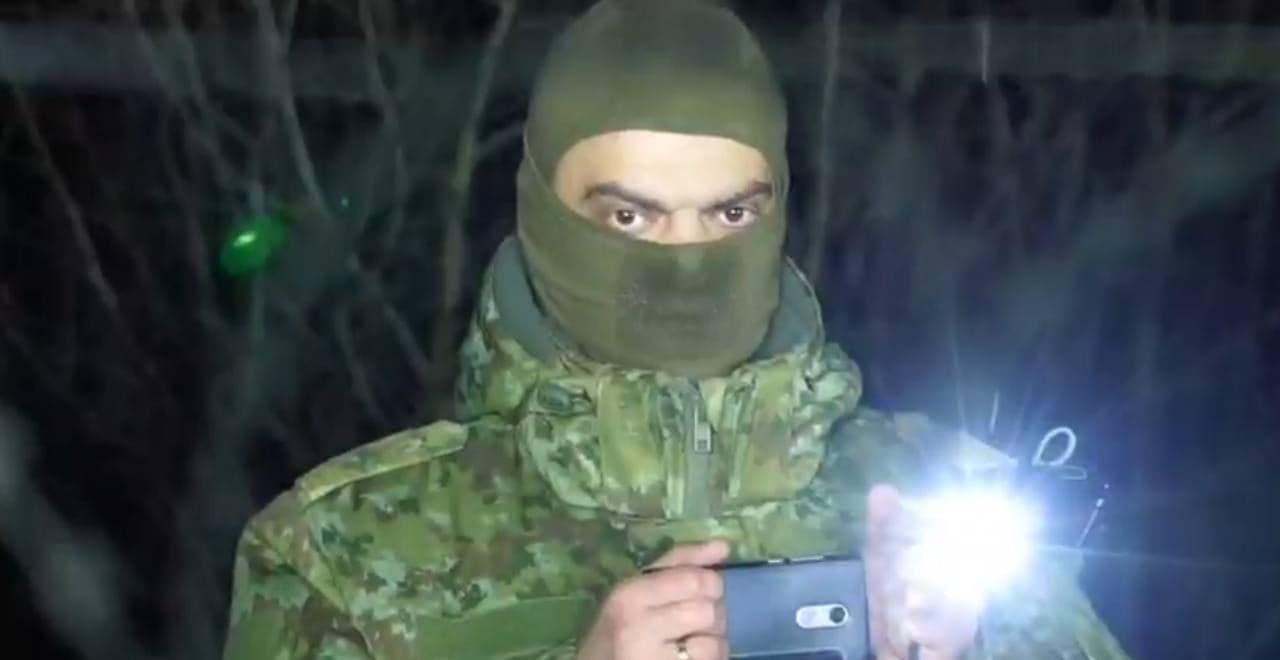 9.58 The US authorities are extremely concerned about the situation on the Polish-Belarusian border. Washington notified both Belarus and Russia about this, US President Joe Biden said.
"I think it is of great concern. We've communicated our concern to Russia, and we've communicated our concern to Belarus," Biden told RMF FM reporters on his way from the White House to the Camp David residence. "We think it's a problem."
9.36 Illegal migrants use the bed of the border river and literally go by water from Belarus to Lithuania.
9.28 France proposed to Russia to put an end to Lukashenka's "political games" on the border.
French Foreign Minister Jean-Yves Le Drian and French Defense Minister Florence Parly talked about this with their Russian counterparts Sergei Lavrov and Sergei Shoigu at a meeting in Paris.
The French side called the behavior of the Belarusian authorities, who use people arriving from crisis regions to blackmail the European Union, "irresponsible and unacceptable." Le Drian and Parley called on Russia to mobilize its close ties with Belarus to "put an end to such political games."
8.17 Political scientist Dzmitry Balkunets believes that migrants brought by the Lukashenka regime to the border with Lithuania and Poland can go to large Russian cities, including Moscow and St. Petersburg.
8.03 According to information from migrant chats and telegram channels, the Belarusian police gave knives and other weapons to migrants and forced them to attack Poland. Those who refused were beaten by the security forces.
"My friends in the woods have now told me that the police in Belarus have given them knives and other weapons and are forcing them to attack Poland. They say they don't want to do this, that they are immigrants, not rebels. In response, the Belarusian police beat them up," the migrants write in their chats.