Belarus Armed Forces General Staff Captain Sent To Jail For 18 years
39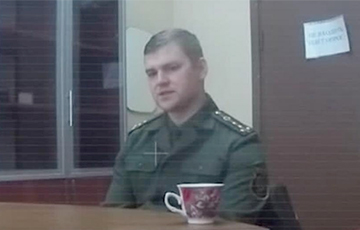 Glory to the hero!
The Supreme Court of Belarus sentenced serviceman Dzianis Urad to 18 years in a reinforced-security penal colony for "treason". The trial took place behind closed doors, Radio Svaboda reports.
According to the General Prosecutor's Office, by the decision of the Supreme Court of the Republic of Belarus, Dzianis Urad, born in 1991, was found "guilty of treason committed by a person who is subject to the status of a serviceman".
The sentence has entered into force, and is not subject to appeal.
Dzianis Urad was accused of "information leaks". Dzianis was mentioned in the ONT propaganda film The Mankurts. He was recognized as a political prisoner.
Dzianis is 29 years old, he is married and has a child. The captain comes from Rasony, Vitsebsk region. He studied at the Military Academy at the Faculty of Communications and Automated Control Systems, from which he graduated in 2014.
What is known about the pursuit of Captain Urad
In March 2021, Captain Dzianis Urad was arrested and taken into custody on charges of "treason". Captain Urad, being on duty at the general Staff of the Armed Forces of the Republic of Belarus, took a picture of the classified letter from the Interior Minister to the Minister of Defense on the "involvement of the servicemen of the Armed Forces" in the actions against peaceful demonstrators.
Human rights defenders, assessing the information about Urad's act and the repressive measures taken against him, proceeded from the International Covenant on Civil and Political Rights. According to it, one cannot refer to the laws "On high treason and official secrets" when it comes to trying to hide from the general public the information that has a legitimate public interest, and does not threaten national security.
"There is no doubt that Urad acted in the public interest, and the Interior Minister rationale of the purposes of involving military personnel in police functions "to protect objects subject to state protection, ensuring the life of the population and the functioning of transport, and objects posing an increased danger to life and health of people" is nothing but manipulating the norms of the law," human rights activists believe.
As an example, they cite the villages of Barauliany and Kopishcha in the Minsk region, where it was planned to send 50 servicemen, but there are no relevant facilities there - only the centers of peaceful protest activity of citizens (the Novaya Baravaya complex in the village of Kopishcha).