MEP Karin Karlsbro: Lukashenka Attacked the European Union, the Answer Must Be Very Firm
11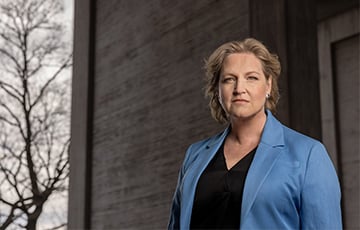 The West has come to the point when it is necessary to adopt economic sanctions.
Lukashenka used military aircraft to force a Ryanair plane to land at Minsk airport. Also, Belarusian dispatchers reported that there was a bomb on board the plane.
After landing, journalist Raman Pratasevich and his girlfriend were detained on their way from Athens to Vilnius.
The international community called the actions of the Lukashenka regime "an act of state terrorism." Western countries demand to impose sanctions against the Belarusian authorities.
The website Charter97.org asked Karin Karlsbro, a member of the European Parliament from Sweden, to comment on the situation with the hijacking of the plane.
- I believe that the use of a combat aircraft to intercept a civil Ryanair flight is an act of piracy, I stated on my Facebook page that it is state terrorism.
- The flight flew from one EU country to another; there were citizens of at least 12 EU countries on board. Lukashenka ordered the MiG-29 military aircraft to follow the plane, which endangered the lives of passengers. Earlier we talked about Lukashenka as a danger to his own citizens, now he has shown that he can go further. Is it possible now to qualify the actions of the regime differently?
- Definitely, he took it to even higher level. What happened is simply unacceptable. Its actions must be condemned in the strongest possible terms, not only by the European Union but also by all member states and the international community.
Lukashenka endangered ordinary travelers on this flight. Such actions in relation to people, its own people, cannot be called otherwise than terrorism. He wanted to attack the journalist on the plane, his methods go to another level, which is completely unacceptable. This is state terrorism.
- The memories of the crash of flight MH17 are still fresh. Then, all 283 passengers and 15 crew members were killed in the skies over Donbas. Since the situation in Belarus is escalating and now directly threatens the lives of European citizens, should EU planes be banned from flying over the airspace of Belarus?
- First, it needs to be investigated, but yesterday's incident showed that it is unsafe to travel through Belarus. We must understand that this can happen again. I think it is important to ban flights over Belarus. This is one of the tools to be used today.
- Do you support the idea of removing Lukashenka from using Interpol and other international organizations for your own purposes?
- Yes, it is completely unacceptable for a dictator to use such organizations. We must support each other in fighting crime and foster a safer world. Lukashenka uses these organizations to attack democracy, security, and people. He cannot be a member of such organizations. That would be completely naive, so this is one of the many issues that need to be discussed now.
- Bloomberg said that "potential measures during the meeting of EU leaders could include the suspension of all transit, including land transport, between Belarus and the EU." Do you think this can happen?
- I think we need to discuss all the pressure instruments. We waited and showed patience towards Lukashenka; many times, the international community, as well as the European Union, said that "we need to raise the sanctions to a stricter level." The EU's response must be very firm. It is very important for the European Union to respond decisively and quickly on this matter.
- What should happen for the EU to impose broad economic sanctions against Belarus?
- I think we have come to the point where we should discuss this because, as I said, yesterday's event is extraordinary. We have been observing attacks on the citizens of Belarus for a long time, and, yesterday, it was an attack on the European Union and the idea of free and safe movement around the world.
It was an attack on freedom, and civilians were in danger. He did it without hesitation. I think this was the level that puts us in a situation where we can look under every stone and look for solutions to express our most emphatic point of view. We must condemn what happened yesterday.