Russian Oil Supplies To Belarus To Decrease 2.2 Times In May
7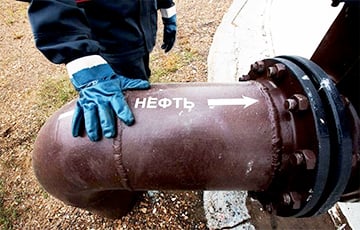 The official representative of Transneft told reporters about it.
Pipeline deliveries of oil from Russia to Belarus in May are scheduled in the amount of 608 thousand tons. The information was made public by Transneft spokesman Igor Demin. In April, 1.325 million tons were delivered to refineries in Mazyr and Navapolatsk, tut.by informs.
The press service of the Russian pipeline monopoly did not specify the May distribution of supplies to each of the refineries in Belarus.
According to the neftegram Telegram channel, it is planned to supply 560 thousand tons to the Mazyr refinery, and 50 thousand tons - to Naftan.
On April 27, Reuters reported that a number of Russian oil companies might refuse to supply oil to Navapolatsk Naftan, fearing the consequences of U.S. sanctions.
On May 2, Prime Minister of Belarus Raman Halouchanka said in an interview to the Belarus 1 TV channel that the U.S. sanctions had no effect on supplies of Russian oil to the refineries in Mazyr and Novopolotsk.
- All the contracts have been signed. Oil is delivered in accordance with the terms of these contracts. Everything is absolutely normal and quiet, - Halouchanka said in response to a question about a possible suspension of supplies of Russian raw materials to the Belarusian oil refineries.
In January-April 2021, Russian oil companies increased oil supplies to Belarus by 95.7% up to 4.92 million tons. Such growth is explained by the fact that in the first quarter of 2020, only Mikhail Gutseriyev's companies, Russneft and Neftisa, were supplying raw materials to refineries in Navapolatsk and Mazyr.
According to Interfax, in April 2021, the major suppliers to the Mazyr refinery were: Rosneft - 300 thousand tons, LUKOIL - 152 thousand tons, Gazpromneft - 106 thousand tons. Last month Naftan received 339 thousand tons of oil from: Rosneft - 339 thousand tons, Surgutneftegaz - 204 thousand tons, Tatneft - about 100 thousand tons, Bashneft - 32 thousand tons, Russneft - less than 10 thousand tons.
The Belnautakhim concern has not yet commented on the May supplies of the raw materials to Naftan. The concern only specifies that "the Belarusian refineries operate in a normal mode" and "the full provision of the domestic market with automobile fuel and the policy of restraint pricing will remain unchanged". Belnautakhim calls "provocative" the expert opinion "about a possible deficit and a sharp rise in automobile fuel prices".
Since 2006, the U.S. has been imposing sanctions against the Belarusian state companies and officials in several stages for human rights violations in the country. Since 2015, the U.S. has granted sanctioned companies a license to operate, which has been renewed annually.
As of April 19 this year, the U.S. replaced the current 2G license with a 2H license, under which counterparties to any of the sanctioned nine companies are advised to complete any transactions with them by June 3. We remind that the blacklist includes Naftan, Belnautakhim, Belnautakhim USA, Belarusian Oil Trading House, Belshyna, Hrodna Azot, Hrodna Khimvalakno, Lakakraska and Polatsk Stseklavalakno.