Polish Customs Officers Stopped Smuggling of Cigarettes Worth 2 Million Euros from Belarus
24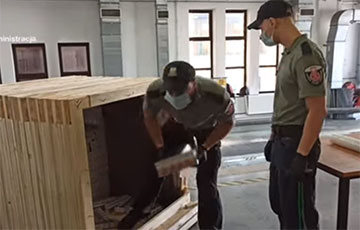 According to the documents, the truck was supposed to carry wood boards.
On July 29, Polish customs reported that the Belarusian truck, which arrived at the border at Kuznitsa (in Belarus, the adjacent Bruzhi checkpoint), according to the documents, was supposed to carry wood boards. During a detailed inspection of the truck, it turned out that cavities were made in the boards, large closed boxes imitating a batch of boards were prepared, and, inside these boxes, smuggled cigarettes were hidden, euroby.info reports.
It took more than a day to unload the contraband and make an accurate calculation. The truck, which was driven by a 28-year-old Belarusian, contained 600,000 packs of Belarusian cigarettes worth about 9 million zlotys (2 million euros).
A criminal prosecution has been initiated against the driver. The man was detained for 3 months. For such a large volume of cigarette smuggling, he could be sentenced to imprisonment for up to 10 years.