"Walesa Told Me: Demand Negotiations"
21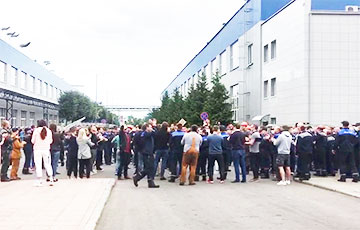 People are safe, and the machines are idle.
In August last year, strikes began in Belarus. The worker of the Minsk Tractor Plant Siarhei Dyleuski became the leader of the labor movement. Then the same thing happened to him as to many leaders and activists: arrest, a month in prison on an administrative case, initiation of a criminal case, forced departure. In October last year, Dyleuski came to Poland and created the Belarusian Workers' Association (BOR).
Recently, the BOR announced a pre-strike state in Belarus and put forward demands, including the restoration of the constitutional rights of citizens, the release of political prisoners, and the beginning of negotiations between the authorities and the democratic forces. Dyleuski claims that if the demands are not met, a nationwide strike will begin in Belarus, and this time it will indeed take place without any false starts.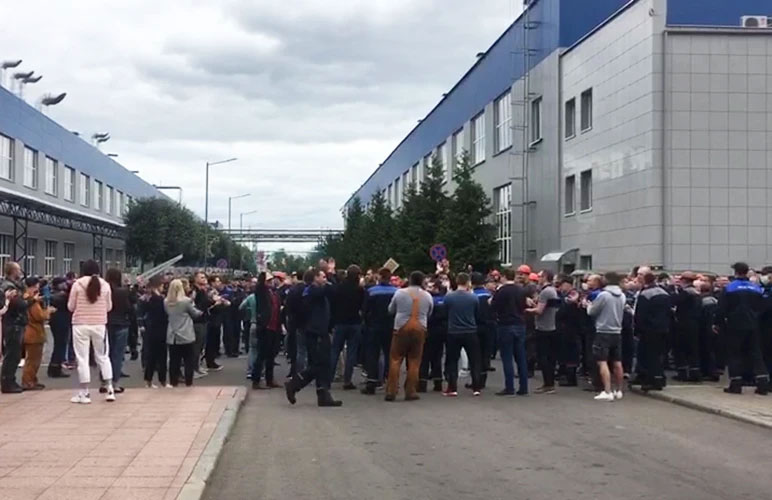 The BOR leader answered the questions of the Novaya Gazeta journalist Iryna Khalip.
- Siarhei, exactly a year ago, in an interview with our newspaper, you said: "I am not a leader, not a politician, I am just a face that people like." A year later, can you repeat these words about yourself?
- Much has changed in me. First of all, my attitude to politics. I used to be a person who had his own interests at the physical level, but I began to understand that it is impossible without politics in Belarus. I started studying politics, to some extent learning to be a diplomat. I communicate with a huge number of people, and I need to find a common language with everyone.
- Was it easier to find a common language with machines?
- If you work as an operator on a conveyor and need to do the same operation with a part 200-300 times per shift, then this is easy, but it gets boring at some point. But if you work, let's say, in a mechanic's team or as a station wagon operator, they bring you scraps of some broken shaft in rags, and you need to assemble it, measure it, make a drawing, and make a new part, then this is interesting, difficult, and new every day.
- You created the Belarusian Workers' Association. Whom does it unite and on what principles? I understand that it's unlikely to unite entomologists, nevertheless, please explain in more detail.
- Why is it unlikely? They also work, so there is no need for discrimination. The Belarusian workers' association is a structure that does not exist in Belarus now. This is a trade union. Our task is to protect the rights of workers. This is the very task that the official federation of trade unions does not fulfill.
- Recently you announced the pre-strike state in Belarus and the imminent start of the strike. What allowed you to conclude the possible start of a strike?
- The statement was not made by "Siaroha from the Tractor Plant" - this is the voice of the people, this is the result of the work of our entire team for six months. We have developed relationships with workforces of both the private sector and state-owned enterprises. And now I can say for sure that the Belarusians, based on the current situation, are ready to announce the beginning of a strike. And the ten requirements for the regime were not invented by me but by the people. I just, one might say, processed the results.
- A year ago, after the presidential elections, a strike began in Belarus. Unfortunately, it failed. What was the mistake, if there was any?
- There was no mistake. The strike was a manifestation of the will of the people. The Belarusians showed in August that they are against this government. The people showed a common desire to change the situation in their country. People saw that they were deceived and loudly declared their disagreement with election fraud. They didn't want to live like they used to. And I don't think the strike was a failure. We got the main thing - experience. Yes, the authorities had enough power resources to suppress the strike and silence the voices of the workers at that time. And we didn't have enough experience to counteract it. We went out on emotions - there are many of us, we can do it. And no one could have imagined that thousands of people would be imprisoned. And now we are working on such a scheme, such a strike format, in order to completely protect the Belarusian workers so that the authorities cannot repeat what they did in August-September last year.
- And also, if you remember, Sviatlana Tsikhanouskaya called for a general strike on October 26 last year. But this appeal went almost unnoticed, except that some small private enterprises - coffee shops and shops - closed that day, for which they later received an invasion of various inspectors and thousands of fines. And large enterprises did not respond to the call at all. Why?
- Because the factory activists at that time were not ready to announce the beginning of the strike. Even my company has about 200 employees. They marched through the plant and were soon fired. You need to understand that, in October, the situation at the factories was not at all the same as in August. In October, emotions had already gone, but everyone remembered the first wave of repressions in August and September very well, and people were simply afraid to go out. They could not understand to whom and why they came.
It was in my head to declare a strike for October 26: no work at all had been done for this. Now the situation is completely different. We have been doing systematic work for almost a year. Each activist was "worked through". If in August of last year it was possible to count the workers' leaders on the fingers of two hands, today I will not have a day to list them all. We, the Belarusian Workers' Association, have raised leaders not just at every enterprise, but also in every division. We have done a great job, and now I can say that it is within our power to stop the factories.
- How to keep the workers safe? You remembered: 200 people came out, walked around the plant, and were immediately fired. In recent days, several strike committee members from the Belarusian Metallurgical Plant, Hrodna Azot, and the Belarusian Railway were sent to the KGB pre-trial detention center - this seems to be a symmetrical response from the authorities to your demands.
- We propose a new strike format. We suggest that you simply physically not go to work, without any marches through the territory of the enterprise, without meetings near the shops. We do not need physical contact between workers and security officials and their batons. The whole country remains at home and stays safe. The strike task is the same. The machine will not be started, but the person will remain safe.
- Can you imagine how much more time it will take for the pre-strike state to turn into a nationwide strike?
- I will not name the dates primarily for reasons of the safety of people.
But I am firmly convinced that the strike will happen in the fall.
- What is the difference between the situation in the private sector and at state enterprises today?
- In the private sector, the situation is somewhat simpler. The leaders or owners of private enterprises are almost all against the current government, they are willing to make contact and even ask how they can help in organizing a strike.
- If a Belarusian worker starts a strike today, how long can he hold out? The situation is not too simple, and workers can only dream of "airbags."
- We take one month into account. This is the time during which every person employed in the country's economy can keep afloat. But do not forget that we provide financial support to those in need. I am not saying that we will pay salaries to the strikers. But we can help people who really need it.
- You said that the Belarusian Workers' Association was created to protect their rights. If you do not take constitutional rights, then what rights of workers are most often violated now?
- Safety regulations, working conditions at workplaces are violated, very often we are faced with coercion to perform duties other than our official ones. And, of course, workers' wages are being systematically violated. If you take my native Minsk Tractor Plant, then, in the third category, regardless of the type of occupation, the payment is 3 rubles 28 kopecks per hour (96 Russian rubles - I. Kh.). An eighth-grade adjuster will have 5 rubles per hour (146 Russian rubles. - I. Kh.). That is, the maximum that he can count on for a shift is 40 rubles (1170 Russian rubles. - I. Kh.), for a month - 800 rubles (23 413 Russian rubles. - I. Kh.). Everything else is bonuses and allowances, and in fact, the earnings are much higher. But business leaders are actively using this. And if you are trying to defend your own rights and the rights of your comrades at an enterprise, then you are simply deprived of bonuses. Because these bonuses are assigned at the discretion of the management. And a lot of people are being kept on this financial hook. Our challenge is to change it.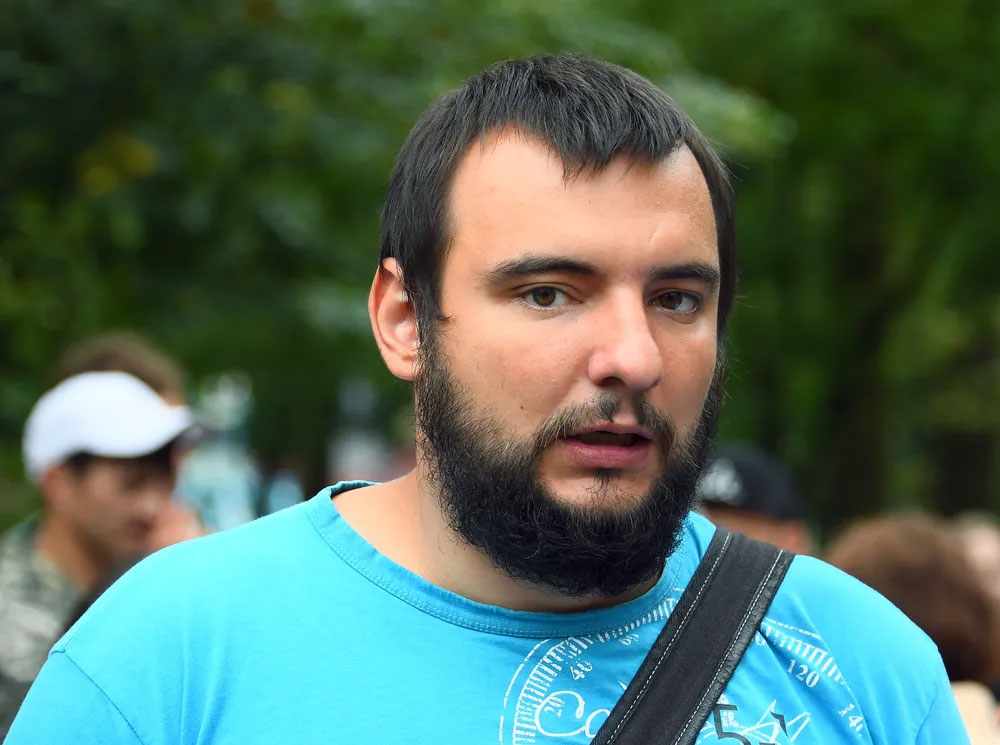 - It's like in Soviet times when the threat to deprive the bonus was a super-reliable weapon.
- And at our plant, nothing has changed since Soviet times. We still have the same five-year plans, the same carrot-and-stick system (rewards and withholdings depending on obedience). It's even funny to say that we still have Soviet soda machines. According to the labor protection conditions, the machine-building industry must have carbonated water. Logically, it should be issued in bottles, but in reality, there are old Soviet machines. And no one monitors the observance of sanitary standards: to fill these machines, they use not food but technical carbon dioxide - the same carbon dioxide cylinders that are connected to the welding machine. In other words, nothing has changed at our plant since Soviet times.
- How is the ideological indoctrination of Belarusian workers carried out by the authorities?
- Ideological work is based on attempts to convince people that their enterprises miraculously survive because the state does not want to expel tens of thousands of unemployed people on the street, but if another government comes, it will put all state enterprises under the knife together with the people. But the eyes and minds of young people are open - this propaganda does not work on them. But the older generation is a different story. Here's an example. When protests broke out after the elections last August, I took part in actions at night, and, in the morning, I came to the plant and told people what a nightmare was happening on the streets. And one of our grinders, a pensioner, she is over 60 years old, says: "And I voted for Lukashenka!" I ask: "Why?" She says: "Well, here I am, retired, and he gives me a job." I told her: "Wait, what is his merit? Is it that you cannot live on your own pension and have to work instead of a well-deserved rest? " She thought about it. The older generation often does not think about the fact that the authorities have created a situation when a pensioner is forced to work since the pension is not enough even for bread. The minimum pension in Belarus is 350 rubles (10,000 Russian rubles - I. Kh.). That is, less than 12 rubles a day (350 Russian - I. Kh.). For comparison: when a person ends up in Akrestsin Street to serve an administrative arrest, the state allocates 13.7 rubles for his food (400 Russian rubles - I. Kh.), Which the prisoner must then pay. That is, the labor pension is less than the cost of porridge in the IVS! It should not be so.
- You have been in Poland for almost a year. Tell us how you left and what you are accused of at home.
- After I spent a month in prison on administrative charges and was released at the end of September; I tried to fight with the management of my enterprise for about a month and still was fired. I was involved in protest actions in Minsk and Zaslauje. And then a well-informed acquaintance called me and warned that a criminal case had been opened against me and that I was being put on the wanted list. I made my decision very quickly. Friends took me to the border, and there I was detained. The Belarusian border guards said that a task force from Minsk was coming after me. For about an hour, I sat in the office, and then the chief of the guard came and said: "I don't know who you are walking under, but the order came to expel you abroad." After that, when I was already in Poland, it became known that criminal cases were opened under two more articles. So today I am an accused under three articles of the Belarusian Criminal Code: 342 (organization of actions that grossly violate public order), two parts of Article 361 (public calls for the seizure of power made using the Internet), and, probably, I am the only accused in the country under this article - 200 (forcing to strike).
- It is almost symbolic for a working leader to be in Poland. Have you met with the leaders of Solidarity?
- Of course. I even met with Lech Walesa. The Belarusian workers' association is partly due to him. When we met, Walesa said one simple thing: "Guys, remember, no one will allow you to register any association in your country, be it a trade union or a cell. Act yourself, like partisans, without bureaucracy." And so it happened. Although, we are now going through the registration procedure in Poland, not for the very fact of opening a legal entity but to facilitate contacts with the International Labor Organization: the ILO does not communicate with individuals. They can meet and talk with you, but some important actions and cooperation are possible only in contact with structures. And one more very important piece of advice was given to me by Walesa: "You cannot demand Lukashenka's resignation even through strikes. Demand negotiations." Actually, this is what we demand.
- Participants of the strikes in the early nineties, when one hundred thousand people gathered in front of the Government House, remember now that they walked in columns to the square not against the management but because the director of the plant opened the entrance and said: "Go!"
- My father also attended those rallies, so I know well the history of strikes in Belarus. (Parents work at a tractor plant.) Then the workers came to the director, and he said: "I have nothing to pay you with, go and ask the government." And he opened the checkpoint. The current directors of factories are for the most part bureaucrats, nomenklatura, appointees who have nothing to do with production. They have nothing to do with workers. It is extremely disadvantageous for these people that the workers express their opinion and have it in general. They did everything to silence the protest. They tried to convince the workers that the strike was illegal.
- Walesa advised you to strike for negotiations. This is one of your pre-strike requirements. What can you negotiate with Lukashenka about?
- About holding new fair presidential and parliamentary elections. Representatives of all spheres must certainly participate in the negotiations - not only factory workers, but also doctors, athletes, teachers, scientists, and so on. The outcome of the negotiations should be the definition of the format and timing of the change of power. The beginning is the release of political prisoners.
- When Belarus becomes free and you come back, you won't return to the machine, will you?
- Why do you think so? I would be very happy to go back to my workplace.