Lenta.ru: Lukashenka Tried To Present Flowers To Man And Got Into Idiotic Situation
13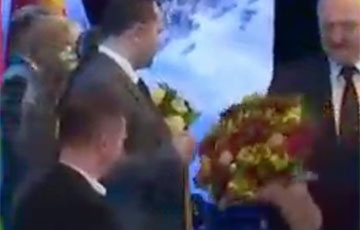 A Russian portal has drawn attention to the cynicism of the dictator.
Lukashenka found himself in an absurd situation. At the award ceremony he tried to give flowers to a man, but he could not take them - he had no hands. The incident was reported by the Russian portal lenta.ru.
The incident took place at the ceremony of presenting awards for the spiritual revival of Belarus on January 11. Having taken a bouquet from a little girl, Lukashenka went with it to a man sitting in a wheelchair. He handed the flowers to the man, but when he found out that the recipient of the bouquet could not take it, Lukashenka tried to put the flowers on him.
Lukashenka was saved from embarrassment by a man standing nearby - he quickly grabbed the bouquet and took it for himself. Lukashenka patted the disabled man on the shoulder and went on along the stage. The moment was not captured on the records of the ceremony in the Belarusian media.