Simonyan Panically Announced Russian Defeat And The Hague 'Even For Yard Men'
22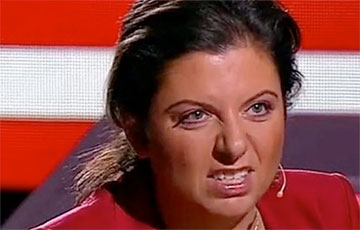 The propagandist was hysterical on Russian TV.
Russian propagandists are well aware of what awaits them after the war defeat in Ukraine. They admit that the occupiers cannot resist the Ukrainian army on the battlefield, so the only thing they can do is bomb the Ukrainian infrastructure.
Kremlin's propagandist Margarita Simonyan announced unexpected facts on Russian TV. She clearly formulated that if the Russian Federation loses the war, a tribunal in The Hague awaits all those involved, reports obozrevatel.com.
"They are preparing to take our Crimea, and we are doing the only thing we can do in this situation, we are bombing, bombing every day. We are bombing their infrastructure. God knows, we didn't want this," the propagandist said cynically.
"We have to be afraid of losing, we have to be afraid of disgrace and we have to be afraid of betraying our people. If we still lose, The Hague is waiting even for the yard men who clean the Kremlin," Simonyan said.
Recall: earlier Simonyan, who enthusiastically announced the use of a Russian nuclear warhead in a talk show with Vladimir Solovyov and poured mud on everyone who disagreed with the war in Ukraine, abruptly changed her rhetoric. She stated that she personally represents an exceptionally deep common nation, and she had never served as an official.