"50 Patients With COVID-19 Per Shift — It's As If Someone Gave Attack Command!"
7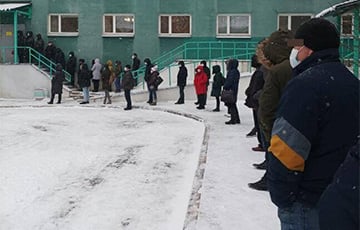 A doctor told how her day on duty was, when Belarusians were "attacked by omicron".
The week in Belarus began with huge queues at polyclinics, problems with calling doctors on home visits, and clarifications from the Ministry of Health that "it's just Monday", "this is due to the desire of citizens to undergo a laboratory examination."
A doctor from one of the hospitals told Radio Svaboda about her duty at the hospital, when Belarusians were "attacked by an omicron". She was on duty at the hospital from 30 to 31 January.
"Initially, the admission of patients was standard. Someone for a planned hospitalization, someone with an emergency call for an ambulance or on their own with some kind of complaint. My task on weekend duty is to work for my department and in the waiting room with patients of my profile, to consult patients of other doctors as necessary.
Everything was calm and no one expected trouble. Yes, "plus" patients [those having positive tests for Covid-19 - Radio Svaboda] periodically, but these were isolated cases. We discharged them, sent them home or transferred them to the infectious diseases departments. The day went on calmly. Around 17.00, about 15 therapeutic patients with a diagnosis of COVID were in the admissions department, suspected of pneumonia. As if someone gave the "Attack!" command, the doctor recalls.
According to her, people came by ambulance and on their own. Many have already been on sick leave due to COVID.
"The only GP in the admissions department, with such a sudden surge in admissions, just drowned in them. Everyone who worked the shift was mobilized and helped. Someone went to work although it wasn't their shift. Doctors in the department urgently organized vacancies, and we helped the therapist admit people with COVID," said the doctor.
The doctor estimated that 30 COVID-19 patients were admitted to the hospital between 5 pm and 8 am. Another 20 diagnosed patients had a mild form and were sent home for treatment.
"There were different people. Some had a mild illness, some moderate. Someone frankly said that they came to the ambulance to do a tomography, and said: "Damn, how much longer do I have to wait?!" People's motives are sometimes difficult to understand. We just worked and did our job. And I will say that this is not the hardest night. It was worse before. But we helped each other as best we could. It was just abrupt and sudden!" says the doctor.