Russian Blogger Told About Putin's Strange Habits
16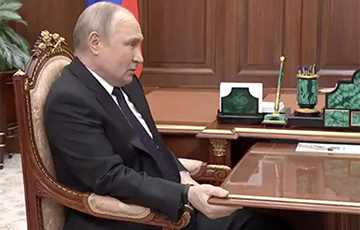 The Kremlin's head does not meet with the generals and does not work with maps.
Russian President Putin does not want to wear glasses, is always late for meetings and does not like to read documents on his own. Strange habits of the dictator were noticed in 2002-2003.
Russian human rights activist and blogger Mark Feygin announced this, according to the Channel 24.
Taking into account rumours that Nikolai Patrushev, Secretary of the Security Council of the Russian Federation, could decide important issues instead of Putin. Feygin said that such thoughts arose because of information about the dictator's health. The human rights activist believes that the president of the aggressor country does not meet with his generals and does work with maps.
Putin is not inclined to monotonous work. He doesn't like "boring" meetings. Feygin learned about it from Mikhail Kasyanov, the former Prime Minister of the Russian Federation. The human rights activist was his confidant.
Kasyanov told Feygin that Putin was always late for economic meetings. Officials waited for the dictator for 3-5 hours, although the meetings were prompt and urgent.
When Putin did finally come to meet officials, he always got bored. The President of the Russian Federation does not like long meetings, so he could only sit for 10-15 minutes and leave, Feigin added. This is how the dictator behaved in 2002-2003, for 20 years the situation has not improved, and could even worsen.
In addition, Putin does not like to read books. He does not even want to read the documents on his own, so the generals have to retell the information to him. Feygin added that even the former Russian banker Sergei Pugachev spoke about this.
Another strange Putin's feature is that he is embarrassed to wear glasses. The dictator does not want to recognise his age, so he cannot read all the documents on his own, because his eyes get tired. It also explains Putin's habit of requiring generals to retell him information.
Now, Feigin claims, Patrushev is retelling to Putin the topics discussed by Russian generals. The dictator does not attend joint meetings and does not sit at the same table with officials.