Borrell Proposes To Use Frozen Russian Central Bank Assets To Help Ukraine
2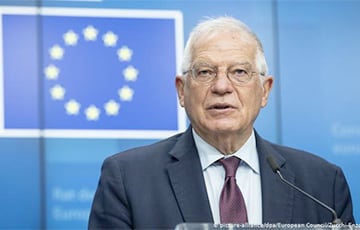 The cost of rebuilding Ukraine in the wake of damage caused by the war could run into hundreds of billions of euros.
European countries should consider seizing the frozen assets of the Russian Central Bank and using them to rebuild Ukraine after the war, EU High Representative for Foreign Affairs and Security Policy Josep Borrell said in an interview with the Financial Times on Monday, May 9, according to Deutsche Welle.
"I would be very much in favour because it is full of logic," said the diplomat. As an example, he cited the situation with the assets of the Afghan Central Bank frozen in the United States. In February this year billions of dollars of assets belonging to the Afghan central bank had been taken under control, in part to potentially compensate victims of terrorism as well as for humanitarian aid for the people of Afghanistan. "It would be logical to consider similar steps with Russia's reserves," Borrell said. "We have the money in our pockets, and someone has to explain to me why it is good for the Afghan money and not good for the Russian money." European countries have not yet taken any steps to make it, FT notes.
A political question
"US Treasury secretary Janet Yellen asked last month whether the money could be seized and used to rebuild Ukraine, said it was not something to be done lightly, should only be done in co-ordination with allies and that it might require legislation in the US," writes FT.
Josep Borrell stressed that the issue of paying for the restoration of Ukraine is one of the key issues on the agenda. The "incredible amount of money" would be involved, and the EU countries are expected to bear a significant share of the burden. Sums raised in recent pledging conferences had been a mere "drop of water in the ocean", the reconstruction of Ukraine could run into hundreds of billions of euros," said Borrel.
US president Joe Biden has proposed oligarchs' seized assets could be sold off to help rebuild Ukraine. The idea was advocated last week by European Council president Charles Michel. European Commission officials are examining ways of making this legally.
Hundreds of billions to rebuild Ukraine
Ukrainian President Volodymyr Zelensky and Prime Minister Denys Shmyhal have estimated the cost of rebuilding the Ukrainian economy and infrastructure after the Russian invasion at $600 billion. First Deputy Minister of Economy of Ukraine Denis Kudin said that Kyiv, together with Western partners, is already developing a mechanism for using $415 billion from the frozen assets of the Russian Central Bank for these purposes.
Russia accumulated a record 643 billion US dollars as gold and foreign exchange reserves of the Central Bank before the war. According to Western analysts, about two-thirds of this amount was frozen as part of the sanctions for the invasion of Ukraine. Russian Finance Minister Anton Siluanov said that about $300 billion were frozen.