Klimkin: West Running Out Of Patience, It Will Fight Together With Ukraine
50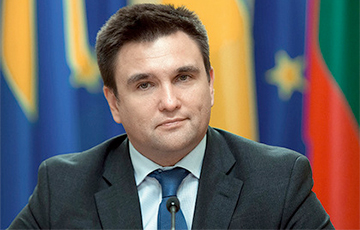 There have been several landmark events.
The landmark statements made by Western leaders in recent weeks, particularly on the Crimean platform, indicate that the West has woken up, that it has realized the danger posed to the entire civilized world by Putin's regime in Russia. Their patience has run out.
The participation of European armies in Russia's war against Ukraine is an absolutely real prospect. We are talking about the liberation of all the occupied territories of Ukraine, including Crimea. In essence, the Third World War has already begun.
This opinion was expressed in an exclusive interview with obozrevatel.com by Ukrainian Foreign Minister in 2014-2019 Pavlo Klimkin.
- What is your opinion about French President Macron's speech on the Crimean platform? You should agree that this is quite unusual rhetoric for him - he called for no compromises with Russia. What was the reason? Has patience run out?
- Patience did not run out yesterday. Macron was one of those who lobbied for a decision on our candidate status in the European Union. He was already running out of patience even though a lot of people in Europe had doubts.
Look at what Scholz was saying a few days ago in Berlin - about Russia wanting to draw the borders of Europe with a pencil, about how we will not let Putin win. This alone means that all of Europe is beginning to lose its patience.
The war has been going on for six months and they realize it's already turning more and more into a third world war. And in this third world we have to win together with the West, as part of the West. There are no other variants because otherwise there will be neither West, nor democratic values. In fact, there will be nothing.
This is the war for existence of Ukraine and the West. And everybody there understands it better. That is why there are such speeches.
- Do you think that Europe has realized that Putin poses a threat to their countries as well? In this context, the statement of British generals who called on their soldiers to be morally ready to participate in the war in Ukraine comes to mind.
- I think there will be such calls in the EU as well. We will get to that point. I think it is absolutely real. The armed forces of many European countries are talking about it.
It is absolutely clear to everyone that the West is waking up. It is not completely awake, we must wake it up finally. But it is already waking up, it understands that comfort zone is a nightmare that can end very badly.
- And what can we in Ukraine have as real consequences of such an awakening in Europe? Will it be increased military assistance, will it be, for example, assistance in the de-occupation of Crimea?
- I believe there will be more. At some point it will be direct influence and direct involvement of the West in this war against the Russian regime. In what form - we'll see. But we must talk about de-occupation of the whole Ukraine, of course, including the Crimea, because it is sacred, holy for all of us, as well as any part of our territory. But the main thing is the sense of value.
Once you have given up values, it is almost impossible to get them back. That is, in fact, Ukraine's mission. And I think, without any pathetics, that our mission in XXI century is to return the civilized world the understanding that there are values and we have to fight for them.
The West, which behaved as one trying to compromise for the sake of compromise, has also gradually started to come to a different understanding, albeit a bit belatedly. So we are not just seeing a change in rhetoric - we are seeing a change in action.
You can see how many countries have joined new assistance to Ukraine on the eve of Independence Day, how many countries are starting to say that they are training the Ukrainian military and so on. There are so many things that are converging together these days.