Quarrels Among 'Yyabatkas'
17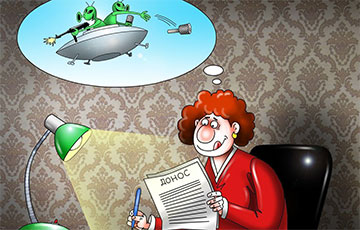 Lukashists are writing denunciations against each other.
Propagandists and "yabatkas" have begun to express their discontent with the odious blogger Olga Bondareva, who often goes to the trouble of Belarusian culture and "misbehavior" of the Belarusians. It seems that the latter have run out of patience, Nasha Niva writes.
Svetlana Varyanitsa, head of Hrodna regional organization Belaya Rus is among those who dared to speak out openly against Bondareva.
The ONT host Sviatlana Karulskaya also supported her colleagues, dissatisfied with the activities of the Hrodna activist.
Meanwhile, Bondareva filed a complaint to the police against the journalist of Lukashenka's administration (probably, the SB. Belarus Segodnya), but it was not satisfied.
Bondareva also offenced a journalist of Lukashenka's pool.
The opponents of the "infokazachka" call her Bobosh.
They reproach Bondareva with the fact that she, a patron of morality, went to the Brest fortress in mini-shorts, and that she held the national flag upside down, and she doesn't recognize Kupala from Kolas.