UAV Strike Against Russian State-Owned Tactical Missiles Corporation Plant In Smolensk
16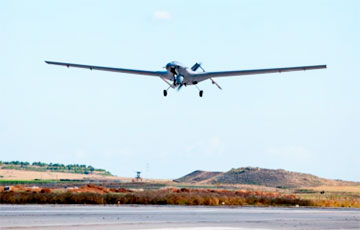 Details of the attack revealed.
There was a drone attack on the Smolensk Aircraft Plant, a part of the Tactical Missiles State Corporation, on the morning of October 1.
The Agency came to such conclusions after analyzing videos published by the eyewitnesses.
In the video, small arms bursts are heard before the explosion, which refutes the Ministry of Defence's statement that the air defence forces "defeated all drones" in the Smolensk region.
The Russian Ministry of Defence reported at about 9 a.m. (local time) on Sunday that air defence systems destroyed three Ukrainian UAVs over the Smolensk region. An hour and a half later, the department clarified that two more drones were destroyed over the region. The head of the region added that there were no casualties or destruction. Ukrainian media reported that three drones tried to attack the Smolensk aircraft plant.
One of the videos published by the eyewitness on social media shows a drone flying near the Volna Car Wash and the Kutuzov Mall.
According to the Agency's analysis, these buildings are located on Kutuzov Street, and the drone flies towards the nearby Smolensk Aviation Plant building.
There is also the Severny airfield on the territory of the plant, where the experimental flight test station of the aircraft plant is based.
According to the Smolensk Aviation Plant website, its main areas of activity are mass production of the developments of the Tactical Missile Weapons Corporation, production of Yak-18T, SM-92T aircraft in various modifications according to requests, maintenance of Yak-18T aircraft and production of spare parts for Yak-40, Yak-42 aircraft.
In October 2022, regional authorities reported that the Ministry of Defence had loaded the plant with government orders till 2025, and its production volume would quadruple in a few years - from 6 to 24 billion Russian rubles. To do this, the company had to double the number of employees.
Also, drones attacked Sochi on Sunday morning. Local residents reported an UAV attack on the International Airport Sochi.
The head of the city stated on his Telegram channel that a temporary restriction on flights was introduced at the airport but from 8:20 the airport operates as usual. 14 flights were delayed and one was canceled due to the restrictions imposed.