Russian Partisans Claim Responsibility For Explosion, Fire In FSB Building In Rostov-On-Don
3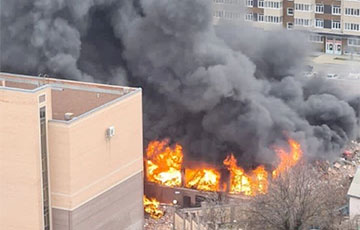 The Chekists were sent "best regards from Escobar".
The Russian partisan group "Black Bridge" claimed responsibility for the fire in the building of the border service of the Federal Security Service of the Russian Federation in Rostov-on-Don.
The group published a statement on Telegram.
It says that the initiator of the explosion announced the sabotage on March 14 with the help of a coded message: "Pavlovsky Posad. FSB. Best regards from Escobar". The group said he changed cities to "cover up the tracks" and the Black Bridge called themselves the "co-authors" of the incident, which happened just two days later.
The movement claims that the fire happened due to the operation of an improvised explosive device, which was placed in a container of fuel. They said that the FSB in Russia is "a stronghold of hypocrisy, violence and injustice, the employees fabricate criminal cases against the dissent, squeeze businesses from entrepreneurs, commit sabotage against civilians, and torture oppositionists."
On March 16, in Rostov-on-Don, a strong fire broke out in the building of the border service of the FSB. According to preliminary data, the cause of the fire was an explosion at the border control warehouse. The authorities of the Russian region claim there was "short circuit wiring" indoors.