MEP: We Demand The Immediate Release Of Palina Sharenda-Panasiuk
9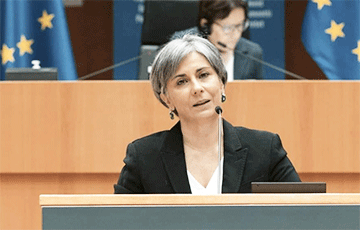 The Belarusian political prisoner has been held captive by the Lukashenka regime since January 2021.
Member of the European Parliament from Portugal Isabel Santos, defensor of the activist of the European Belarus Сivil Сampaign Palina Sharenda-Panasiuk, called for support for the Belarusian political prisoner. It was Palina's yesterday.
"We will never forget Palina. I want to recall that the Belarusian woman has been held captive away from her two children since January 2021, when she was arrested for opposing the Lukashenka regime," the MEP wrote.
Recall that Palina Sharenda-Panasiuk met her birthday behind bars for the third year in a row. This time, she is in a punishment cell of the Zarechcha Women's Colony No 24.
It is possible to support a political prisoner at the address: Belarus, Homiel Region, Rechytsa District, 44 Proizvodstvennaya Str., Zarechcha, 247526, Colony No 24, Palina Sharenda-Panasiuk.